Record number of cranes in UK
c4d47a41-97b9-4410-ba28-9431883c6a15
The latest Common Crane survey has revealed a record-breaking 48 pairs across the country in 2016 in a population of 160 birds, the highest number since cranes returned to Britain in 1978.
Common Crane was once a widespread breeding species before it became extinct through hunting and loss of wetland habitat around the 1600's. Then, in 1978 a small number of wild cranes returned to Britain and established themselves in a small area of the Norfolk Broads, before slowly spreading to other areas of eastern England, benefiting from work to improve their habitat at Lakenheath RSPB, Suffolk, and Nene Washes RSPB, Cambridgeshire.
In 2010, the Great Crane Project — a partnership between the RSPB, Wildfowl and Wetland Trust (WWT) and the Pensthorpe Conservation Trust, funded by Viridor Credits Environmental Company — set out to help this small population of birds. By improving the habitat they once called home and carefully hand-rearing young birds, the project aimed to restore healthy numbers of wild cranes throughout the country starting on the Somerset Levels, at West Sedgemoor RSPB.
The latest survey revealed 48 pairs across Britain in 2016 that raised 14 chicks to fledgling stage — two more than the average for the last five years, during which a fantastic 60 chicks have been raised by wild cranes significantly adding to the country's population.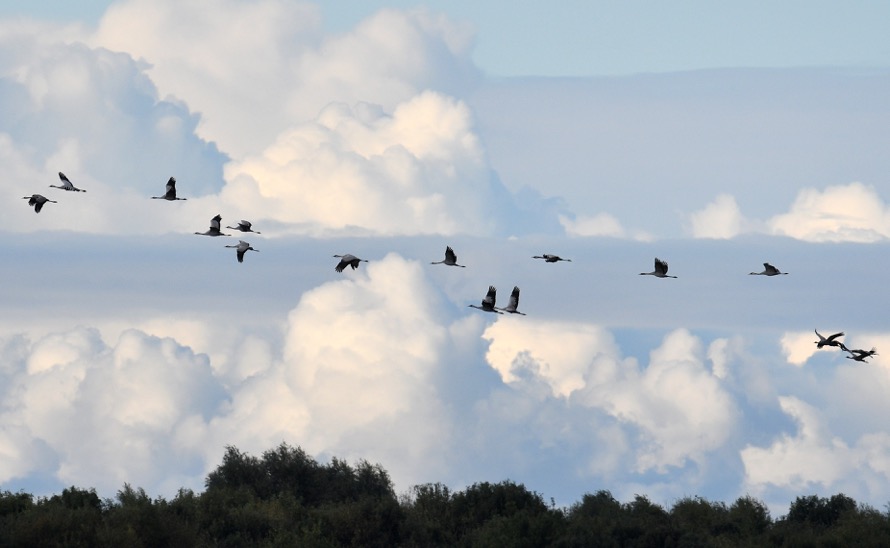 Common Cranes, like these at Welney WWT, are becoming an ever-more familiar sight across Britain (Photo: Jane Rowe)
Damon Bridge, RSPB manager of the Great Crane Project, said: "To see [cranes] returning in ever increasing numbers to their former homes after all this time is an amazing spectacle that many more people will be able to enjoy, and a true reflection of how important our wetland habitat is to cranes and many other species."
The Great Crane Project released 93 birds in the South-West between 2010 and 2014, helping to secure the long-term future of the species here. Since the initial Somerset release, cranes have gone on to successfully raise chicks in Wiltshire, Gloucestershire and this year in the Gwent Levels — the first time cranes have nested in Wales for 400 years.
Rebecca Lee, WWT Principal Conservation Breeding Officer, said: "It's a dream come true. We devised the Great Crane Project so that we could kickstart a population of cranes here in the West [Country], in the hope that it would expand in tandem with those that had already settled in the east, and eventually the two would meet.
"It's still early days, but it seems to be happening. Cranes have now bred successfully in England, Scotland and Wales, and we're not far off 50 breeding pairs where just a decade ago there were barely a tenth of that. Cranes are well on track to become a true conservation success story for the UK."
Wild Common Cranes are now breeding in Norfolk, Suffolk, Cambridgeshire, Yorkshire and East Scotland, alongside the reintroduced populations in Somerset, Wiltshire, Oxfordshire and Gloucestershire. The population is now roughly half from the Great Crane Project's reintroductions and half from the natural re-colonisation that has been occurring in the east of England for the last 30 years.
You can find out more about the project and where to see the cranes in the wild at www.thegreatcraneproject.org.uk.