Record Black-faced Spoonbill count in Asia despite deteriorating habitat
0885a1d1-7686-4f5f-8074-3c22b301d9cf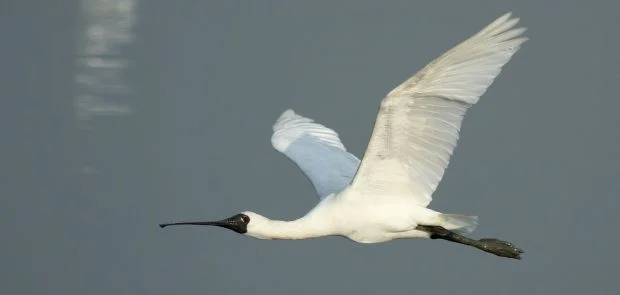 The annual International Black-faced Spoonbill Census in eastern Asia has recorded an increase of 2.6 per cent since the last count.
The 3,356 individuals logged in January 2016 is substantially more than the previous year's 3,272 individuals, and was a record recent world population count for this Endangered Asian waterbird.
The annual census of
Black-faced Spoonbill
has been ongoing since 2003, and this year's was held on 15-17 January, with the participation of over 200 volunteers in suitable locations in South Korea, Japan, mainland China, Taiwan, Hong Kong, Macau, Vietnam, The Philippines and Thailand.
"This record recent count reflects conservation measures that have finally come into effect over the last decade. Spoonbill numbers have increased because two major wintering sites – Taiwan and Hong Kong – are well protected, and breeding sites in the Korean Peninsula have not been seriously disturbed," said Yat-tung Yu, Research Manager of Hong Kong Bird Watching Society (HKBWS) who co-ordinate the census across the region.
Taiwan is still the largest wintering area for the species, and there were a total of 2,060 individuals there – a marginal increase of 26 birds. This increase in the total global population was mainly a result of more records being counted in mainland China, which had a 32 per cent increase from 330 individuals in 2015 to 434 this year. Increases were also recorded in South Korea, Japan and Macau.
Worryingly, however, the figure from Deep Bay (between Hong Kong and Shenzhen, China) decreased from 462 individuals in 2010 to 371 individuals this year, which represents a cumulative decrease of nearly 20 per cent over the period (including 40 fewer individuals than 2015).
The decrease of Black-faced Spoonbills in the Deep Bay area is of conservation concern because the area has long been one of the largest wintering sites for the species. Mai Po Nature Reserve, an IBA in Hong Kong and the core part of the Deep Bay, is managed for waterbirds and wetland conservation with habitat enhancements for wintering Black-faced Spoonbills having been implemented to improve the condition of the reserve.
Simultaneous regular waterbird-monitoring activities at Deep Bay have found decreasing figures of other wetland species too: total winter waterbird counts at the site have fallen from a plateau of 90,132 in 2008 to 43,425 in 2016.
As well as Black-faced Spoonbill, several other globally threatened and near-threatened waterbirds occur including the Endangered Great Knot and the Vulnerable Saunders's Gull. The exact reasons behind these declines remain unknown, although habitat deterioration such as water pollution and wetland reclamation continues to take place, alongside wider problems with coastal development and illegal poaching that are affecting the South China region as a whole.
Content continues after advertisements