Rare warbler breeds in Israel
e514c4d5-f687-4836-85e4-9e6358c8e88c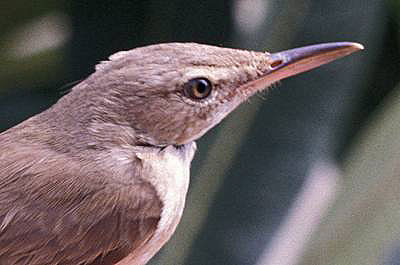 Basra Reed Warbler (photo: A F A Hawkins/BirdLife).
One of the Middle East's most threatened species, the Basra Reed Warbler, has received a welcome boost.
Normally restricted as a breeding bird to the Mesopotamian marshes of southern Iraq (and probably also southwest Iran), a research team from SPNI (BirdLife in Israel) trapped and ringed four birds in Israel's Hula Valley in June 2006. The two males, a female with a brood patch, and an almost fully-grown juvenile, are the first of the species ever to be discovered breeding in Israel.
Basra Reed Warbler Acrocephalus griseldis was listed by BirdLife as Endangered on the 2004 IUCN Red List, due to an 80% decrease in the species' breeding population — largely a consequence of the draining of the Mesopotamian marshes by former Iraqi leader Saddam Hussein.
Content continues after advertisements
However, this news from northern Israel raises hopes for the species, as do recent improvements to its marsh habitat in Iraq.
Although the warblers will soon return to their African wintering grounds, the Israel Ornithological Center is to initiate a monitoring scheme in future years to collect more information on the species' occurrence in the region and promote its long-term survival.