Rare tern colonies restored by BirdLife
e43ee863-f305-451f-913e-cf79cef4145f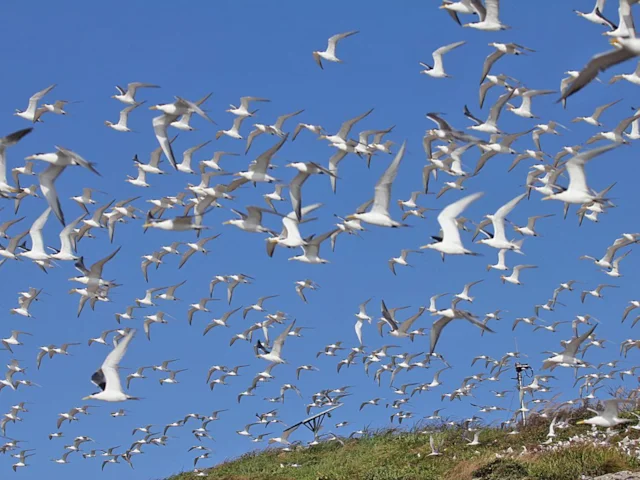 An innovative BirdLife restoration project has added one more to the two known breeding colonies of Critically Endangered Chinese Crested Tern.
Earlier this year, a small island called Tiedun Dao in the Jiushan Islands – an archipelago where Chinese Crested Terns used to breed – was chosen for colony restoration, in the hope of adding another site to the two existing colonies on the Mazu Islands off the coast of Fujian, and the Wuzhishan Islands off Zhejiang, both in China.
Until 2000, the species was believed to be extinct, but four pairs were discovered on the Mazu Islands, followed by others being seen. Considering the birds' rarity, the restoration team expected it would take some years before there was any hope of attracting the birds back. Their plan was to use decoys and call playback to attract the species to Tiedun Dao. It was hoped that the Great Crested Terns would initially colonise the island, their numbers would then gradually grow, and that Chinese Crested Terns, which have always been found nesting within large colonies of the commoner species, might eventually follow too.
By late September – and at the first attempt – a substantial new colony of Great Crested Terns had arrived on Tiedun Dao and raised hundreds of young, and at least one Chinese Crested Tern chick also fledged successfully among them.
In early May 2013, a team Chinese and American co-workers placed 300 tern decoys on Tiedun Dao. Solar-powered playback systems were installed among the decoys broadcasting contact calls of Great and Chinese Crested Terns from the Wuzhishan Islands colony. A few Great Cresteds visited during the first week in June, showed initial nesting behaviour but only stayed a few days. This alone was considered a successful first season for the project, and with no further signs of any visiting birds in the following five weeks, the breeding season was thought to be over and monitoring was suspended.
When another international team visited in mid-July, they restarted the playback system. To their surprise and delight, almost immediately a few Great Crested Terns were attracted and seen flying above the decoys. Their numbers grew to several hundred within a few days, and by the end of July a high count of 2,600 Great Crested Terns had been recorded, and hundreds of pairs had laid eggs and begun incubation. Among them were 19 adult Chinese Crested Terns, the highest single count since the species' rediscovery in 2000, and at least two pairs of the endangered species also laid eggs and began incubation. Despite typhoons, by late September approximately 600 Great Crested Tern, and at least one Chinese Crested Tern chick, had successfully fledged.
Yu Mingquan, Deputy Director of the Xiangshan Ocean and Fishery Bureau, said: "We will do our best to ensure good management of the Jiushan Islands NNR and we also hope to receive more support for the conservation of the tern colony here in Xiangshan."
"The success on Tiedun Dao is a landmark for contemporary conservation in this region," responded BirdLife's Senior Asia Conservation Officer, Simba Chan. "No one dared imagine that the first year of such a challenging restoration project would be so successful, it just goes to show what can happen with a good idea, strong local commitment and a bit of luck."
Content continues after advertisements