Rare reptile reintroduced at Surrey reserve
4cd18684-5c93-49e0-8728-9eafe4347f27
One of the UK's rarest reptiles may have a brighter future after a project between the RSPB and the Amphibian and Reptile Conservation Trust (ARC) saw 21 Sand Lizards released at Farnham Heath RSPB, Surrey.
Native to Britain, the lizard grows no bigger than 8 inches in length and needs sandy ground in sunny spots to dig burrows for egg-laying, shelter and sunning. Females are a sandy-brown colour with rows of dark markings along the back, but males have exotic green flanks which are at their brightest during the summer, making them easy to spot. They are the country's only egg-laying lizards, as Common (aka Viviparous) Lizard gives birth to live young.
Sand Lizards were first reintroduced to Farnham Heath in 2012 in an attempt to boost the dwindling British population. However, three years ago a fire started by an illegal camper destroyed a good portion of the restored heathland at Farnham, killing off much of its rare wildlife. Since then, the damage has slowly been repaired and colonies of Sand Lizards, Field Crickets and other species are being brought back to safeguard their future as a British species. In partnership with ARC, 21 lizards were bred at a nearby site before being relocated and released on sandbanks created especially for them at the reserve.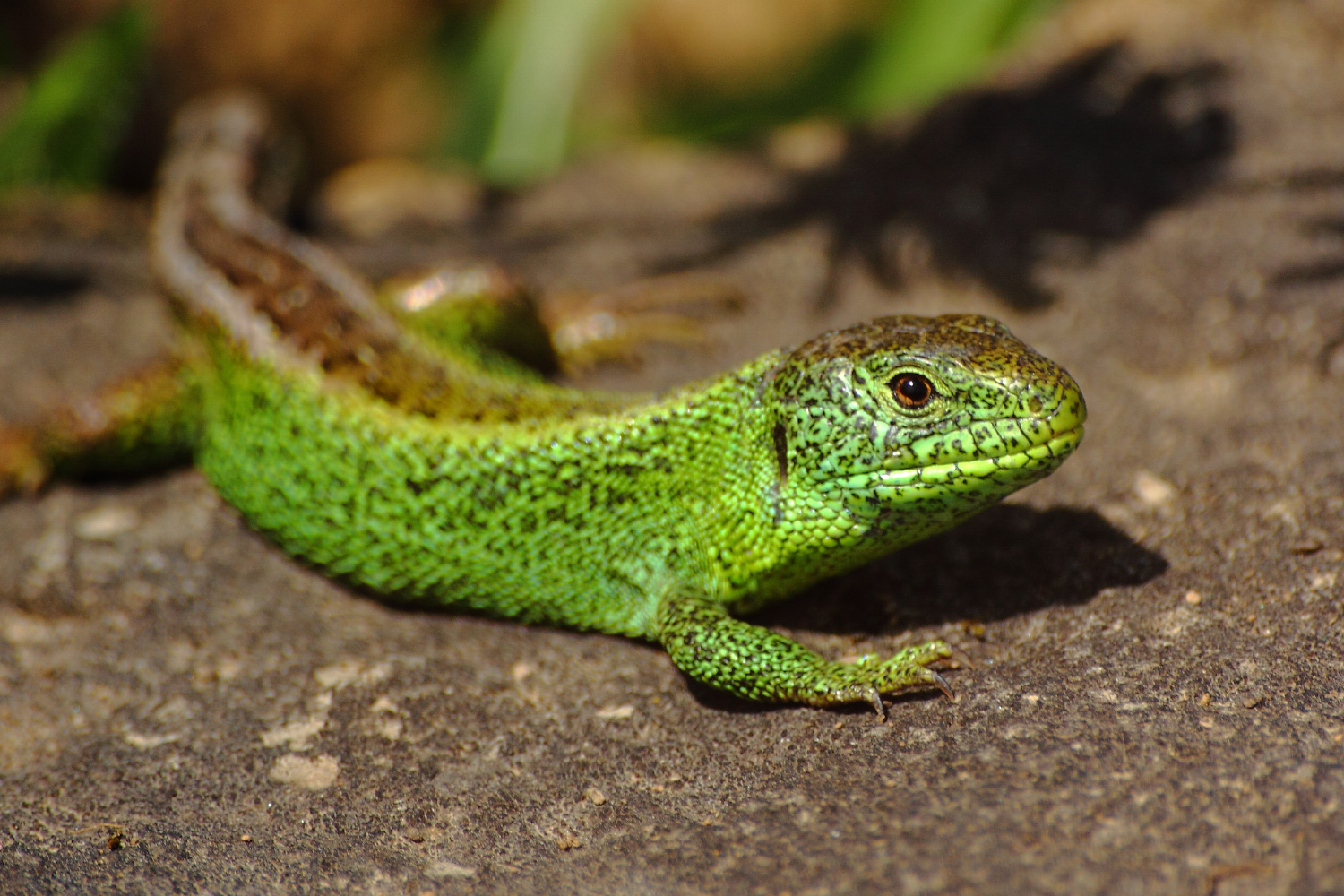 Male Sand Lizard (Christoph Caina/wiki commons).
Mike Coates, Farnham Heath RSPB Warden, said: "With their bright, exotic appearance these reptiles would look more at home in a desert or [on a] Mediterranean island, but in fact Sand Lizards are native to the UK. Sadly, their numbers have plummeted in recent decades and are in desperate need of our help.
"In partnership with ARC, we are building a more resilient UK population, by boosting the numbers we have here at Farnham. Over the past six years we've worked to restore and create the perfect heathland habitat for these amazing creatures and we hope this will allow numbers to continue to grow in the coming years."
The heathland found at RSPB Farnham Heath continues to not only provide a home for lizards, but a wealth of other species including Dartford Warbler, European Nightjar and Grass Snake.
Content continues after advertisements

European Nightjars can be found at Farnham Heath in the summer months (Natalino Fenech).
The UK has lost close to 80 per cent of its heathland habitat since the turn of the 19th century through being converted to farmland, for forestry or used for housing. Farnham Heath's 162 hectares sit within the Surrey Hills Area of Outstanding Natural Beauty and offers a home to some our own rare heathland wildlife.
Mike Coates added: "The creation and restoration of lowland heathland at this site will not only benefit the many species we have living here at the moment, but those that may arrive in the future with the impacts of climate change."
Ralph Connolly, Field Officer and Volunteer Co-ordinator for ARC said: "Habitat fragmentation in the form of intervening roads or development can be a real barrier for wildlife, so reintroductions are a great way of putting native species back on suitable sites that they would be unable to reach on their own. If you are lucky you may see the Sand Lizards basking on south-facing heather banks."
In the future, the RSPB aims to revive Sand Lizard colonies in several locations, including at Pulborough Brooks RSPB, maximising the chance of success for this special resident.