Puerto Rican Amazon faces long recovery
4caa0d49-2652-4f96-8498-d387a050a50f
It is feared that some of the Caribbean islands hit by last year's two major hurricanes may take a very long time to recover fully, with wildlife enthusiasts also conscious that birds have likely been terribly impacted in many places. Last year's succession of storms left more than just the island of Puerto Rico devastated – its endangered endemic parrot, Puerto Rican Amazon, also suffered serious conservation setbacks.
While there were probably tens of thousands of Puerto Rican Amazons on the island in pre-Columbian times, the population had dropped to little more than a dozen by 1975. This was the result of deforestation, hunting and possibly species competition. Once major conservation efforts and captive breeding began, the situation improved. By 2012, the estimated population of Puerto Rican Amazons was approximately 60-80 birds in the wild and more than 300 individuals in captivity; just before Hurricane Maria, the captive and wild population together numbered more than 500 individuals.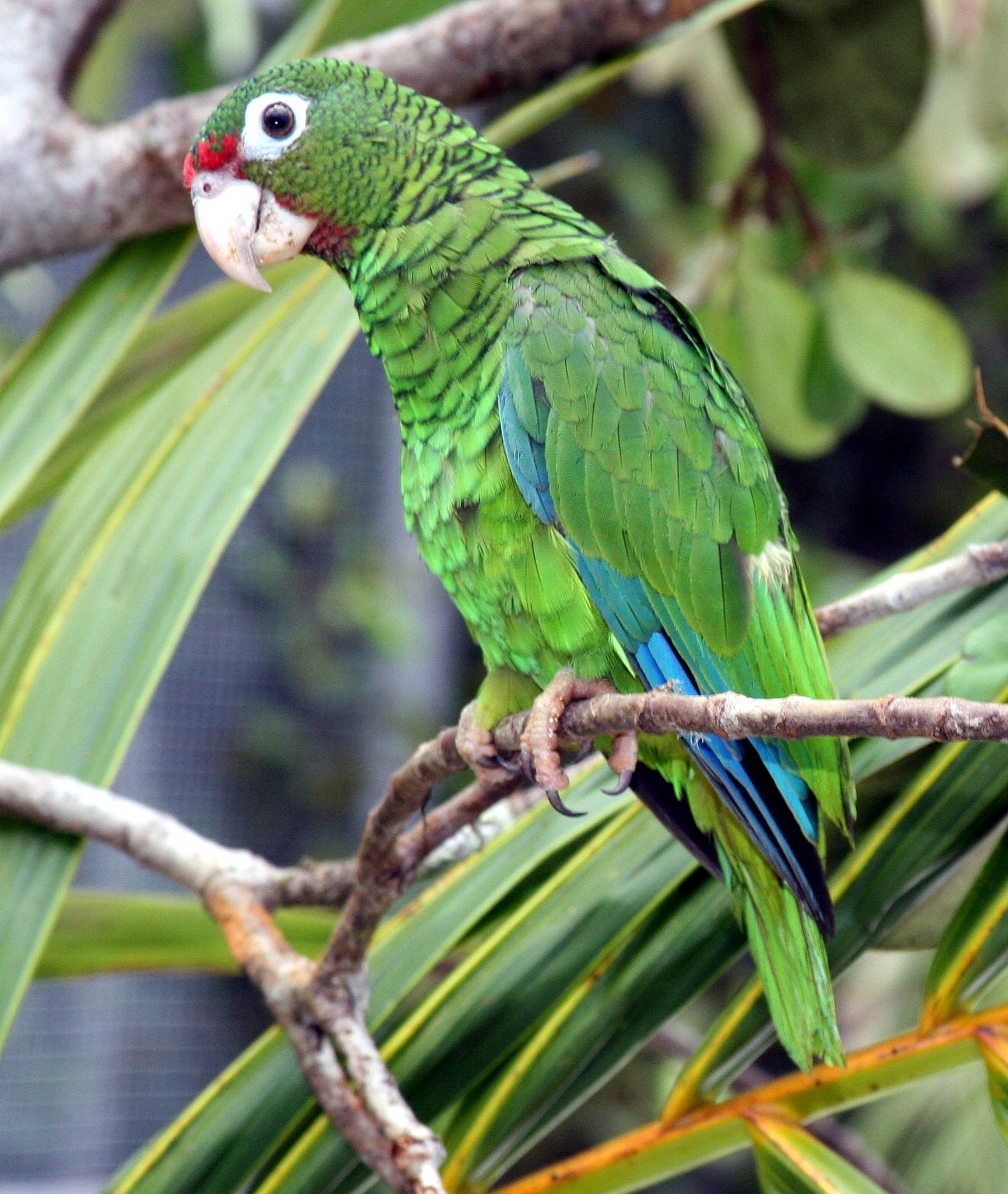 Puerto Rican Amazon photographed in an acclimitisation cage at the captive breeding programme (Tom MacKenzie/commons.wikimedia.org).
Found only in the 28,000-acre El Yunque National Forest and the Río Abajo State Forest, Puerto Rican Amazon is classified as Critically Endangered. Following the hurricane, at least seven parrots died in captivity because of the stress induced by the storm and high temperatures created by a sudden lack of canopy. As a result, more parrots may have to be brought into captivity.
Also, because known nesting and roosting trees were destroyed, real concerns for the species' future have been raised. Indeed, the worst hit areas of El Yunque forest "might take a century to recover," claimed Grizelle Gonzalez, a project leader at the International Institute of Tropical Forestry, which is part of the US Department of Agriculture. Much of the forest has been completely defoliated.
Searchers going through the forest – at least the accessible parts in the eastern part of El Yunque – have had poor results locating parrots, and access to the western part of El Yunque has been very limited. Still, locals have reported seeing several 'cotorras' (a local name for the amazons) carrying radio collars and leg bands from the ongoing conservation programme. A few radio-tagged parrots even returned to the aviary under their own steam. Fortunately, the significant parrot population in the Río Abajo State Forest – numbering more than 80 individuals – has been confirmed to be still extant.
Lack of adequate communication has made cross-checking among conservation partners very difficult. It is also clear that researchers working to preserve the species have been having to deal with the same difficult day-to-day living experiences as other Puerto Ricans elsewhere on the island. In fact, even before Hurricane Maria, there was understandable push-back over scarce resources being put into re-establishing the parrots while the island was facing serious financial crises.
Most of the devoted bird-educators, conservationists, and researchers who live and work across the Caribbean have typically limited resources to begin with. Many have taken the time to help birds when they themselves have lost their homes or offices. BirdLife colleagues at BirdsCaribbean have been helping many people get back on their feet, so that they can begin vital restoration efforts for the birds and habitats that suffered the destruction of Irma and Maria.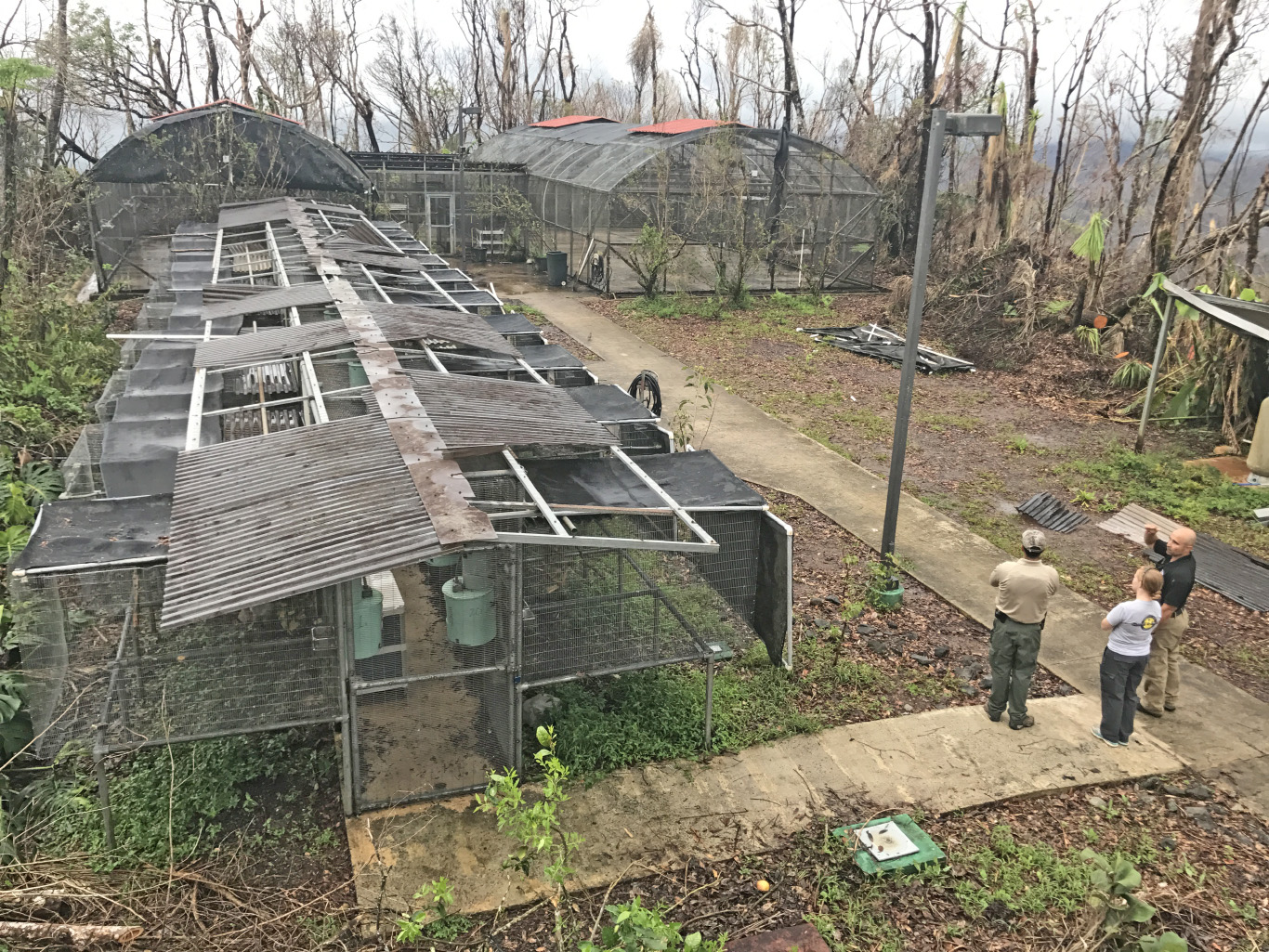 Local conservation workers survey damage to Puerto Rican Amazon aviaries on the island (US Fish & Wildlife Service/commons.wikimedia.org).
Thanks to recent contributions, more than 2,000 nectar feeders for hummingbirds and Bananaquits and over 10,000 pounds of birdseed have been delivered to 14 islands and countries in the West Indies, all impacted by Irma and Maria; some 800 feeders and 2,000 pounds of seed alone have been delivered to Puerto Rico. You can find more details, make a personal contribution, and/or leave comments here.