Power lines to be buried to save one of world's rarest birds
7741c91f-7cf4-4ab4-b748-978165993380
One of the world's rarest birds may be saved from extinction thanks to a new initiative to bury power lines across its last breeding stronghold in India.
As few as 100 Great Indian Bustards are left in existence, almost all of which are found in Rajasthan's Thar Desert, and the species continues to decline.
Although excessive hunting, habitat destruction and disturbance were largely to blame for its near-complete extirpation from the rest of India, the biggest current threat to the few remaining bustards in Rajasthan is collision with power lines.
The Thar Desert has become a hot-spot for renewable energy projects, with wind and solar energy a focus here to satisfy India's burgeoning demand for power. However, wind farms and associated power lines and other structures are proving to be fatal hazards for the bustards, which are among the world's heaviest flying birds. The Wildlife Institute of India estimates that 18 Great Indian Bustards die each year due to collision with power lines – almost a fifth of its tiny population.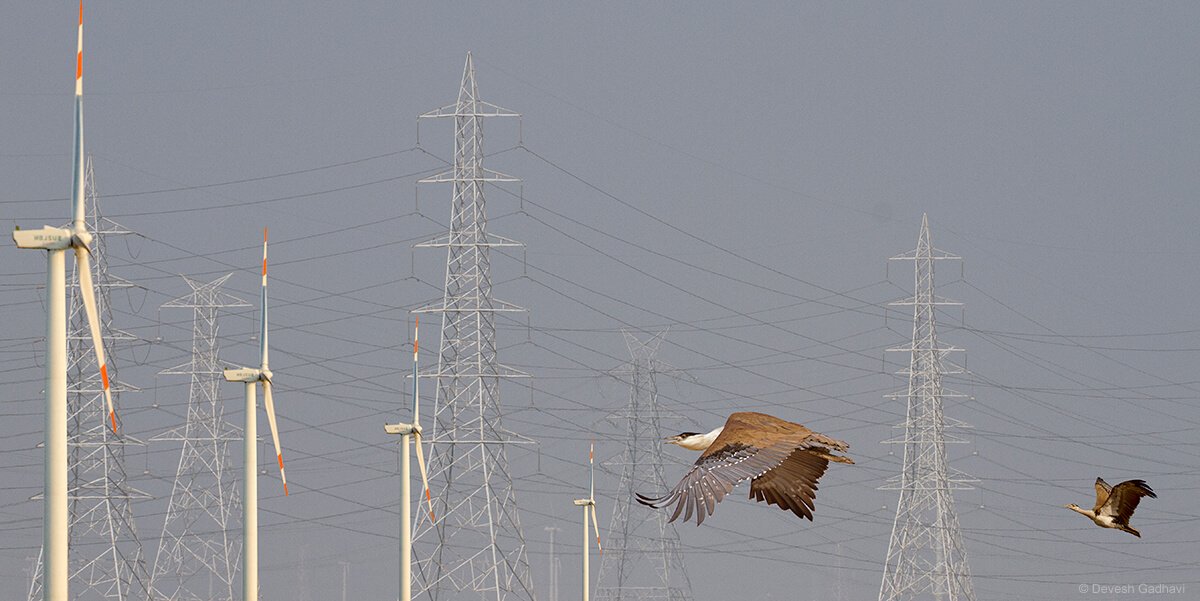 It is estimated that one in five Great Indian Bustards die in collisions with power lines each year (Devesh Gadhavi).
Content continues after advertisements
In April, the Indian Supreme Court ruled that all power lines should be transferred underground in Great Indian Bustard habitat, and in the meantime, eye-catching bird diverters should be installed on the wires.
The ruling applies not only to the bustard's existing range, but also to any potential habitat that it could spread into – offering the crucial opportunity for expansion that the species so desperately needs to survive.
However, energy companies have complained about the financial outlay for burying power lines, and some have called for a review of the Supreme Court order. Conservationists hope that the Indian Government holds its ground.
Elsewhere, work is already underway to bolster Great Indian Bustard numbers. The Wildlife Institute of India and the Rajasthan Forest Department are running a captive breeding programme, and several chicks are currently being raised. These chicks will eventually be released – but for this to happen, it is essential that large swathes of safe habitat are secured.
In the meantime, the Supreme Court has directed that lines be taken underground immediately, stressing that irrespective of cost, the priority should be to save the near-extinct birds.