Poultry flu outbreak in South Korea
a673892b-780a-4da8-a102-4b4e8d1adfbc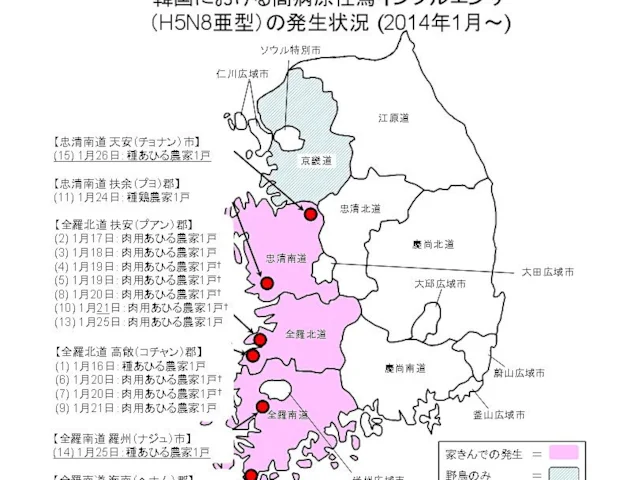 The outbreak of a new strain of the avian influenza virus in three provinces of South Korea has been found to have infected both poultry and wildfowl.
Veterinary authorities in South Korea have reported at least eight outbreaks of the highly pathogenic avian influenza (HPAI) virus of the strain H5N8, previously unknown in wild birds, affecting mostly domestic ducks in North Jeolla, South Chungcheong and South Jeolla provinces, and spreading rapidly since it was first identified on 16 January this year.
Korean authorities say that the pathogen has already spread to wildfowl populations, with a sample of 19
Baikal Teal
having being found infected after almost 1,000 ducks were found dead at a reservoir about three miles away from an infected poultry farm in Gochang, North Jerolla. South Korean quarantine officials are blaming the migratory duck species for the spread of the disease. Three
Tundra or Taiga Bean Geese
corpses were also found to be infected with the strain at the same reservoir, along with some
Eurasian Coots
, while infected duck corpses have now been discovered up to 35 miles from the original detection site. The reservoir in question collects run-off from local poultry farms, among its other water sources.
As the sites are on the
East Asian migratory fly-way
, many thousands of wild duck are at risk from infection, particularly as wild duck are known to mingle with domestic duck at many outdoor poultry farms. The South Korean Ministry of Agriculture, Food and Rural Affairs has already laid its cards on the table, caliming that the outbreak originated in wild bird populations and apparently confirming that it is H5N8. The ministry has now culled more than 640,000 chickens and ducks in at least 30 farms.
However, the United Nations (UN) evidence-based publication
Scientific Task Force on Avian Influenza and Wild Birds: statement on H5N8 Highly Pathogenic Avian Influenza in poultry and wild birds in Republic of Korea, January 2014
clearly states that outbreaks of '
bird flu
'-type pathogens have all originated in domestic poultry so far. Past reports to the contrary have been found to be damage limitation propaganda from the poultry industry, and there is good reason to think that this may also be the case in South Korea. The UN advises that wild birds are kept separate from captive poultry to avoid disease transference.
Officials are recommending chemical sterilisation and other control measures on farms in the affected areas, but with rumours of culling the wild birds being reported by the South Korean media. Flocks of bean geese are being sprayed with disinfectant against the advice of the UN, and there is further talk of helicopters being used. Movement of poultry workers and products has also been banned between the provinces involved.
The Japanese Ministry of Agriculture, Forest and Fisheries is understandably anxious to monitor the situation closely. There is little evidence that the H5N8 strain can yet transfer to humans, but it is known to be virulent in domestic chickens and there was a small outbreak in New York State, USA, last year.
With thanks to Charlie Moores for additional information.
Content continues after advertisements