Police appeal after 'brutal' death of Hen Harrier chicks
72d60237-5fbd-4b13-adc1-ee50dbf17857
Police are appealing for information after three dead Hen Harrier chicks were found in a nest in the Yorkshire Dales National Park in June.
On 21 June, staff from Natural England visited the site near Whernside under license after the attending female, 'Susie', was tracked by her satellite tag to a location 35 km from the nest site, indicating something had happened to the young. The nest had contained four healthy chicks in May.
With no evidence of natural predation, the failure of the nest was suspicious so the police were informed of the incident.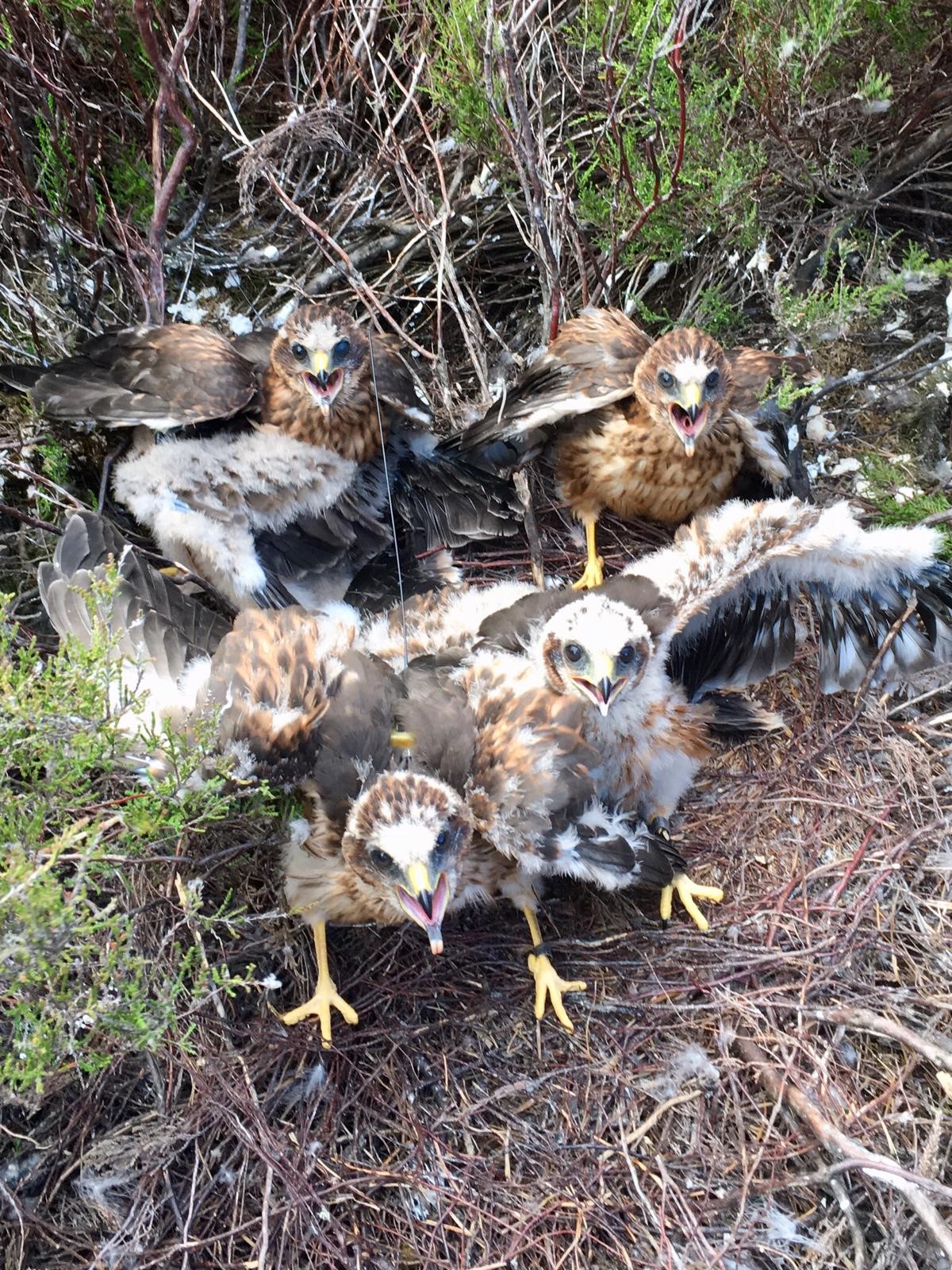 Four Hen Harriers chicks like these (from a successful nest in North Yorkshire in 2019) appear to have been deliberately beaten to death (Moorland Association).
Nest camera footage showed Susie settled at the nest with the four young after dark on 15 June, but five minutes later the camera was suddenly blinded. The next image on the motion-activated camera showed her attempting to feed her dead young in the morning, with later images showing her remove them from the nest. Three were found near the nest by staff but the fourth could not be located.
The only mark left at the site was an apparently fresh footmark impression in the surrounding vegetation. Post-mortem examinations revealed multiple fractured bones in each of the three birds recovered from the scene. Avian flu was detected in one of the birds but the examinations showed the birds had been eating until just before death, indicating the chicks died as a result of sudden trauma rather than disease.
After considering the evidence, North Yorkshire Police strongly suspect that at least one person visited the nest after dark and deliberately killed the Hen Harrier chicks.
A North Yorkshire police spokesperson said: "Despite there being encouraging news this spring regarding the numbers of successful Hen Harrier nests this year, we sadly continue to be regularly called upon to investigate cases of illegal persecution of Hen Harriers and other birds of prey. There is no place for the selfish and illegal killing of our wildlife in our countryside."
John Holmes, Natural England Strategy Director, added: "The evidence points to this being one of the most clear-cut and brutal cases of Hen Harrier persecution we've ever found, and we would urge anyone with information to come forward."
Anyone with any information regarding this incident is asked to contact North Yorkshire Police on 101 and quote incident reference number 12220107140, or contact Crimestoppers anonymously on 0800 555 111.