Peregrine nests targeted in callous attack
0744e7ed-af04-44ec-8cf5-78e4b6d67ab7
The RSPB is offering a reward of up to £1,000 for information leading to the conviction of people who have been setting traps for Peregrines in the Midlands. Nests in two different quarries have been targeted in the last two weeks. The RSPB first received reports of traps being set on a Peregrine nest ledge at a quarry near Kingswinford in the West Midlands on 13th May.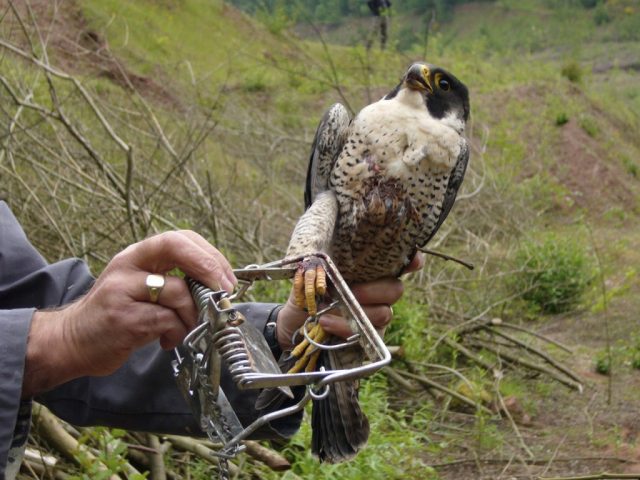 Peregrine Adult in spring trap.
When officers went to investigate, they found three spring traps set around a peregrine nest, which also contained two smashed eggs. Then on 22nd May, volunteers watching a nest at a quarry near Cannock in Staffordshire spotted a male Peregrine caught in one of five spring traps, which had been set on a nest ledge. The volunteers, who are licensed raptor workers, managed to reach the nest and rescued the bird, along with two chicks, which were close to starvation. The male later had to be put down. Raptor Rescue, an organisation that cares for injured birds of prey, is now caring for the chicks. There was no sign of the female Peregrine and it is believed that she too may have died.
The use of steel spring-traps is legal only if they are set in tunnels to kill certain mammals such as rats, grey squirrels, stoats and weasels. It is illegal to set the traps out in the open where they can catch protected wild birds. Wild birds caught in the traps may have their legs broken and often suffer a painful, lingering death.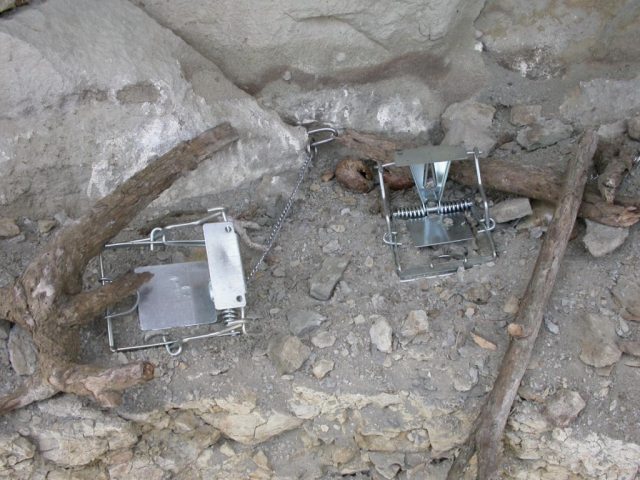 Spring trap next to broken Peregrine eggs.
Content continues after advertisements
Mark Thomas, RSPB investigations officer, said: "These are sickening incidents, with parents deliberately trapped and killed in their nests and their young left to starve. The fear now is that those responsible may be planning to target more nests in the area. Someone must know who has been setting these traps and why. I would urge anyone with information to come forward and help make sure no more peregrines suffer in this way. We are offering a reward of up to £1,000 if the information we receive leads to a conviction."
Speaking about the incident near Kingswinford, Chief Inspector Steve Anderson in Operations at West Midlands Police said: "This appears to be a targeted attack against one of Britain's most heavily protected birds. We take all these type of offences very seriously and appeal to anyone with information to call West Midlands Police on 0845 113 5000."
Staffordshire Police said the incident near Cannock was of "grave concern". Inspector Dave Gains, commander of the force's Watling Street Neighbourhood Policing Unit, said: "We aim to respond to concerns in relation to this apparently targeted attack and would appeal for anyone with information to contact Watling NPU on 08453 302010." Alternatively, people can call Crimestoppers anonymously about either incident on 0800 555 111.