Penguins lost flight to save energy
ce81eede-ac49-441d-854a-78b761349639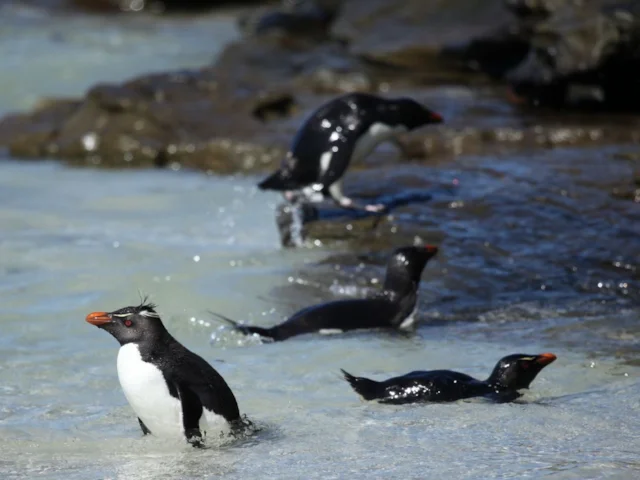 New research has shown that the flightlessness of penguins is largely due to the amount of energy needed to hunt fish and avoid predators.
Penguins lost their ability to tens of millions of years ago, when they became adapted for diving and swimming. A
new study published in the Proceedings of the National Academy of Sciences
has established the (possible no-brainer) that flippers aren't very good when used for flying.
However, science has to empirically prove the superficially obvious as well as the mysterious, and the researchers measured the expenditure of energy in auks (specifically Common Guillemots or Murres), a family which appears to be evolutionarily on the way to flightlessness but can still take to the air.
"Once penguins gave up flight, changes to wing structure and overall body size and shape probably followed rapidly because flying no longer placed constraints to body form," co-author Robert Ricklefs told the Discovery News website. "Penguins are much more at risk of predation in the water than they are on land, and so there has been strong selection to make their swimming and diving as efficient as possible."
So why did the charismatic southern hemisphere birds lose their ability to fly as the process has such advantages? The largest penguin species, Emperor Penguin, walks dozens of miles to its rookeries and back to the sea over periods of several days – flying would substantially shorten that journey.
Auks have a lifestyle that involves both flying and diving, and so 41 Common Guillemots were equipped to measure their energy expenditure. It turns out that they use the most energy ever recorded for any flying animal in their activities, when overcoming drag and providing lift in the air. However, the data show that there is an evolutionary threshold between the two general lifestyles. A bird obligated to fly will lose some its diving and swimming ability, whereas a swimming and diving species will lose some of its flying ability. In the case of penguins, flight completely vanished and the birds gradually evolved whale-like flippers to aid their swimming.
Ricklefs said that the flying ancestors of penguins probably resembled auks in appearance and behaviour, and that other flying waterbirds like Flightless Cormorant on the Galápagos Islands and the South American steamer ducks may have lost their abilities in much the same way. Other flightless species, like ratites, have traded in flying for running but the reason sfor this will probably be substantially different.