Peacock trains not such a drag
a1121c0d-598e-4936-ab20-62e7fdd5e672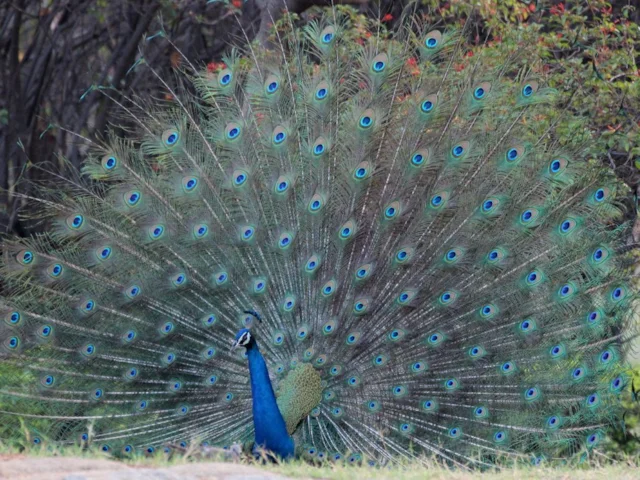 The impressive train behind a male peacock weighs a lot, but appears to have little effect on the bird's ability to take flight.
The special and iconic long feathers of the male Indian Peafowl weigh about 300 g and can reach up to 1.5 m in length, and it has been long thought that this adversely affects the birds' ability to take off, fly and land. It was supposed that it sacrificed these abilities in exchange for being thought attractive by the female of the species.
However, research from the University of Leeds have discovered that this may not be the case, by using two high-speed video cameras to analyse the physical costs and benefits of possessing such ostentatious breeding accoutrements.
Five Indian peacocks were filmed taking off by Dr Graham Askew, from the University's School of Biomedical Sciences. "It's expected that the male birds would be making a significant sacrifice in their flight performance for being attractive, possibly giving up their lives if the train restricts escape from predators such as Tigers and Leopards in their natural environment," Dr Askew said to
www.sciencedaily.com
.
Birds were filmed in virtual 3D in both full breeding plumage and with their trains removed – these feathers are naturally moulted at the end of the breeding season in any case, so the clipping should have caused the birds no harm. Comparing the two, Dr Askew found no measurable difference.
The positions of centre of mass, wing motion and train movement during take-off were filmed, and the power used by the birds to speed up and gain height during the first two flaps was measured. All showed no significant difference in the amount of power used. Drag was also examined by putting a mounted peacock train in a wind tunnel – the amount of drag doubled with wind speed, but this is a small factor in gaining height in flight, and has little effect on take-off.
However, it is possible that the encumbrance of the feathers affects flight or running stability, and it is known that males invest around three per cent of their daily metabolic energy in growing the extra feather length. Clearly, some costs still occur but they are more subtle than previously thought.
Reference
Askew, G N. The elaborate plumage in peacocks is not such a drag.
Journal of Experimental Biology
217: 3237-3241.
Content continues after advertisements