Paradise flycatchers given a new home
90d0ebfd-f724-4123-96b5-dbf0d44c5f7e
A team of conservationists has successfully translocated several Critically Endangered Seychelles Paradise Flycatchers to a different island in order to help safeguard them against extinction.
Six of the birds – four females and two males – were captured on Denis Island, before being moved to Curieuse Island. Upon arrival there they joined nine females and 11 males that had previously been relocated there from La Digue Island at the end of last year.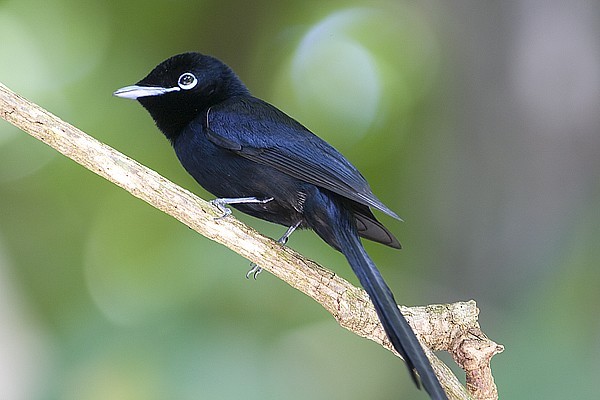 The reintroduction project began in 2008 (Steve Oakes, AEBS Limited).
A team of conservationists caught the birds in mist nets, then marked their tails as to make them individually identifiable until their next moult. Blood samples were then taken and then they were transferred via plane and boat in purpose-built boxes, keeping them rehydrated and energised, before they were finally released. The project has since enjoyed early success, with the first nesting taking place several weeks ago, which culminated in a chick recently fledging.
Dr Rachel Bristol, who completed her PhD at the Durrell Institute of Conservation and Ecology (DICE) in SAC, managed the project in partnership with the Seychelles National Parks Authority. The project was financed by the UK Government's Darwin Initiative.The aim of the project is to successfully establish an additional population on Curieuse Island, ultimately resulting in the species being down-listed to a less endangered category.
The first translocation of Seychelles Paradise Flycatcher – from La Digue to Denis Island – was undertaken by the team in 2008. It was so successful that the population grew from the 23 translocated individuals to the current estimate of over 85 birds. It's from this population that the conservation team were then able to source some of the birds for this second introduction scheme on Curieuse Island, with the rest coming from the relict population on La Digue Island.
Professor Jim Groombridge, who led the project, said: "This is such a positive start for this new population. The translocation is a crucial milestone in the successful recovery of this critically endangered bird, and represents a highly successful long-term international collaboration between the Government of Seychelles, local conservation partners and DICE at the University of Kent, and will hopefully lead to a more secure future for this beautiful bird. Successes like this are part of what I teach to our Wildlife Conservation BSc students as these cases require a real understanding of how to bring species back from the brink of extinction."