Ornithologists "Hit Jackpot" on Sightings of Critically Endangered Bird
0495a2ef-5473-49f3-b539-6608d56455bf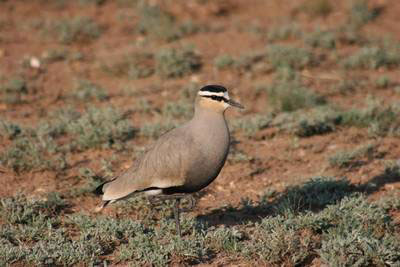 Sociable Lapwing: The Sociable Lapwing discovery was made in the short grasslands of Northern Syria (photo: Koshkin Maxim).
A small expedition team travelling across Syria today announced the discovery of the largest wintering population of one of Eurasia's most endangered birds, the Sociable Lapwing.
Previous estimates placed the global population of this Critically Endangered species at between 400 and 1500 individuals. However the expedition team reported seeing over 1200 birds in one day and over 1500 in total during the trip, all within a few grassland sites in Northern Syria.
The finding gives tremendous encouragement to conservationists working to save the bird across Central Asia (where it is a summer resident) and the Middle East (where the bird winters).
"It's a finding that every ornithologist dreams of when starting out on an expedition like this." said Remco Hofland, a Dutch ornithologist who led the Syrian Sociable Lapwing Team, made up of Dutch and Syrian birdwatchers. "We had spent the morning looking at a number of areas that were yielding good numbers of the species; almost 400. We were delighted - here we were looking at one of the rarest birds on Earth, and in such good numbers!"
"It was after these that we looked at one more area, which turned out to be the jackpot. Our team split into two and we saw 838 Sociable Lapwings, of which 700 were from a single vantage point." Remco said.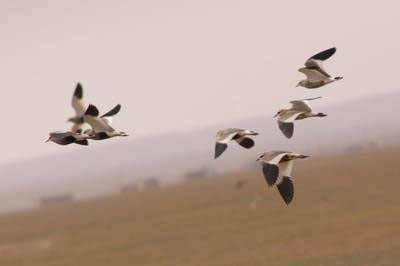 Sociable Lapwing: Fewer than 1500 were thought to exist before today's announcement (photo: Mahmoud Sheish Abdallah).
"It's an incredible discovery, which gives real encouragement to global conservation efforts to save this Critically Endangered species," said Dr Stuart Butchart, Global Species Programme Coordinator at BirdLife International. "Site protection is the crucial next step though: species that rely on a few small sites are particularly vulnerable to change - if this site isn't adequately protected then the continued survival of Sociable Lapwing remains uncertain."
The two major causes of biodiversity loss in the Syrian desert are illegal hunting and habitat degradation - both of which are thought to pose a threat to Sociable Lapwing in the region. Conservationists in the Middle East are now working urgently to ensure that the wintering population can be afforded immediate protection from these twin threats.
"In order to safeguard this newly-discovered wintering population of Sociable Lapwing we have had to act quickly, working with local government agencies and the Syrian Society for the Conservation of Wildlife to help secure the site and its vitally important bird populations," said Sharif Jbour of BirdLife Middle East, who are among those coordinating actions in the region.
The expedition by the Syrian Sociable Lapwing Team was partly funded via a number of organisations: the RSPB (through a grant from the UK government's Darwin Initiative), the Ornithological Society of the Middle East and the Dutch Van Tienhoven Foundation.
To find more similar stories, why not subscribe to BirdLife International's
World Birdwatch
magazine?