Orange-bellied Parrot shows signs of recovery
f4933de8-c986-4123-ad41-ddf34452f664
The Critically Endangered Orange-bellied Parrot is showing signs of recovery after the 'wild' population rose to 118, thanks to a successful breeding season and a release of captive-bred birds.
Just 23 individuals arrived back at the species' breeding site at Melaleuca, in remote south-west Tasmania, last spring. However, a further 34 adults were released at Melaleuca to supplement the breeding population.
Twenty nests were recorded at Melaleuca over the breeding season, with 37 fledglings produced from a mix of wild-born and captive-bred parents. A further 49 captive-bred juveniles were successfully released there in February and March 2020 to join the surviving adults and wild-born fledglings on their migration to the mainland at the end of the season.
And, six months on, the number of birds heading north for the winter has reached 118 – the first time the flock has topped 100 in more than a decade.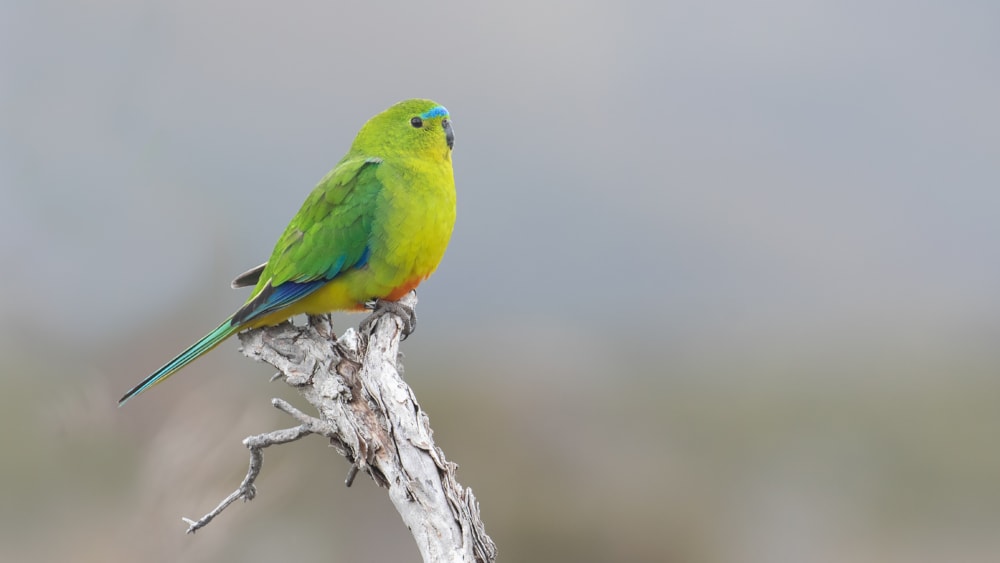 Extinction seemed inevitable for Orange-bellied Parrot just a few years ago, but has a corner been turned in its conservation? (Josh Jones).
In 2013, just three adult females remained in the wild, with a bleak outlook for the attractive, migratory parrot, which makes a return trip from Tasmania's south-west wilderness to mainland Australia's coastal scrubland each year.
Dr Shannon Troy, a wildlife biologist with the Tasmanian Department of Primary Industries, Parks, Water and Environment, said the population has swelled in three ways, some of them the result of work undertaken by a national recovery team.
However, not all are expected to return for the next breeding season. Troy says a good scenario would be 40-50 parrots turning up in Melaleuca from September. While still a perilously low number, it would be more than double the wild population of a couple of years ago, when it fell to 17.
"There's years when things are not good and it really is disheartening so you decide to celebrate the wins," said Troy. "It is an amazing feeling to have had over 100 birds migrate together, but at the same time it's one step. The real change we need to see is the number of birds in spring. That is census time. Then we'll know if there's a change or not."
Dejan Stojanovic, leader of Australian National University's difficult birds research group, explained that the good breeding season is great news, but also stresses the greatest threat to the species is survival during the winter migration months. "Hopefully more birds leaving Tasmania corresponds to more survivors returning next spring to breed," he said. "The big test for all these parrots is still to come."