Obama to create world's largest protected area for wildlife
c5c44b1f-88eb-45c4-8319-6a6ca6028806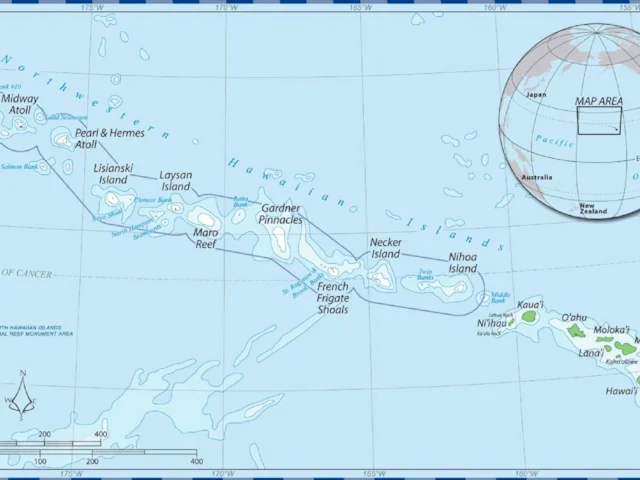 The Obama Administration in the USA has announced that it will expand Papahanaumokuakea Marine National Monument (MNM), Hawaii, from 89 million to 373 million acres, creating the largest protected area on Earth.
The President will highlight this enormous global conservation gain this week at the International Union for Conservation of Nature's (IUCN) World Conservation Congress in Honolulu, which runs from 1-10 September. Following the announcement in Hawaii, he will travel to Midway Atoll National Wildlife Refuge to see the species he is helping to protect by this proclamation first-hand.
Established in 2006 by President George W Bush, Papahanaumokuakea protects wildlife and safeguards native Hawaiian cultural resources throughout the monument's millions of acres of open ocean, undersea mountain ranges, coral reefs, islands and atolls.
This expansion extends Papahanaumokuakea's boundary from 50 to 200 nautical miles offshore of its islands and atolls to match the boundary of the Exclusive Economic Zone, thus protecting an additional 284 million acres of Pacific Ocean habitat. Prior to this announcement, France's Natural Park of the Coral Sea in the south-west Pacific held the title of world's largest protected area at just over 319 million acres.
Nihoa Millerbird is one of several endangered endemic bird species to the Papahanaumokuakea Marine National Monument. Photo: R Kohley (US Fish and Wildlife Service, Pacific Region).
"The expansion of Papahanaumokuakea MNM is a historic milestone for global conservation efforts and reaffirms the United States as the world leader in natural resources protection," said David Houghton, President of the National Wildlife Refuge Association.
The expansion offers increased protections for predator fish species like tuna and swordfish, millions of pelagic seabirds like Laysan albatross, critically endangered species like Hawaiian monk seal, and incredible coral reefs in a vast ecosystem with unparalleled biodiversity. All waters within Papahanaumokuakea MNM will be off-limits to commercial fishing and other resource extraction activities, such as deep-sea mining. Sustainable recreational and traditional fishing will still be allowed.
Administered jointly by the U S Fish and Wildlife Service, the National Oceanic and Atmospheric Administration and the State of Hawaii's Department of Land and Natural Resources, Papahanaumokuakea MNM encompasses two national wildlife refuges (NWRs): Midway Atoll NWR and the Hawaiian Islands NWR.
Papahanaumokuakea's remote location, incredible biodiversity and relatively untouched marine and terrestrial ecosystems have made it one of the premier locations to study the effects of climate change. Because the monument's low-lying atolls and fragile coral reefs are especially sensitive to rising sea levels, ocean acidification and other consequences of climate change, the region provides scientists with crucial information as to how climate change will affect other environments around the world.
Expanding Papahanaumokuakea has been widely supported not only by the scientific and conservation community, but also native Hawaiians as well. Today's announcement guarantees additional protections for an area regarded as sacred in native Hawaiian culture and ensures continued abundance of the ocean resources that provide both food and economic security to the region. The name "Papahanaumokuakea" itself honours two ancestors of native Hawaiians (Papahanaumoku and Wakea) whose union, according to Hawaiian culture, resulted in the creation of the Hawaiian people and archipelago.
The expansion of Papahanaumokuakea continues President Obama's conservation legacy in the Pacific. Over the course of his Presidency, Obama has protected approximately 546 million acres in the Pacific – more area than the states of California, Texas, Florida, Montana, New Mexico and Arizona combined.
"The establishment of this visionary MNM by President George W Bush and the continuation by President Barack Obama is a fitting symbol that wildlife and habitat conservation is not a partisan act – it is an act of humility and respect for future generations on this blue planet," Houghton said.
Content continues after advertisements