Northern Bald Ibis given new hope
b2d5c75b-4f1e-455f-ba52-c38f33d64302
In the time of the pharaohs, the Northern Bald Ibis was revered as a god, Thoth. But now this bird has become the rarest in the Middle East — with just three wild individuals in Syria, plus one juvenile reared this year.
The Turkish Government (Nature Protection and National Parks) has now donated six semi-captive birds from Turkey, which have been taken to Syria in the hope that they can prevent the disappearance of the wild Middle Eastern population. Two of these have been fitted with satellite transmitters and been carefully introduced to the wild birds, in the hope they will follow their lead and ultimately bolster the precariously small population. The remaining birds will be kept in purpose-built aviaries for breeding and future releases of juveniles.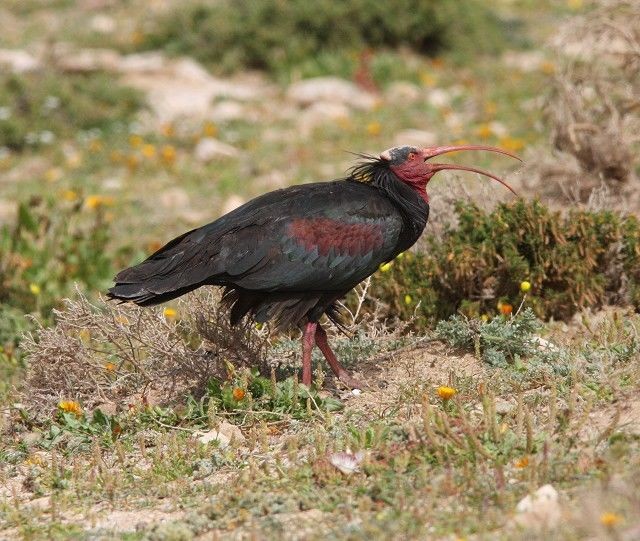 Bald Ibis, Morocco (Photo: Steve Wilce)
Formerly thought to be extinct in the Middle East, in 2002 researchers discovered a tiny population of just seven birds near the ancient city of Palmyra in Syria, their last known refuge in the region. The number had dwindled to just three this year, despite extensive protection in Syria. There is increasing evidence that hunting and other pressures outside the breeding grounds have driven this decline, and satellite tracking the birds is a major tool for understanding and addressing the problems. You can follow the progress of these birds online.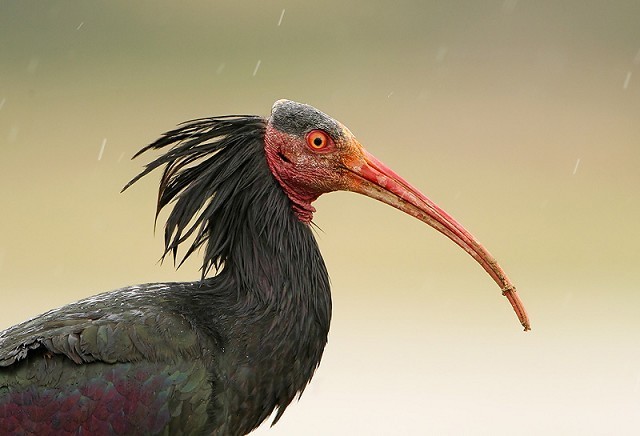 Bald Ibis, Morocco (Photo: Rudi Debruyne)
The satellite transmitters will allow researchers to monitor their movements — it is known the adult birds spend the winter in Ethiopia, but the wintering grounds of the juveniles is incompletely known. A team of biologists will also be attempting to locate the birds on the ground, and to record habitat details and ensure that no illegal hunting takes place.
The Northern Bald Ibis is Critically Endangered (the very highest category of threat) and in addition to the tiny Syrian population, the bird has two further wild colonies, in southwest Morocco, where the population totals just 100 breeding pairs.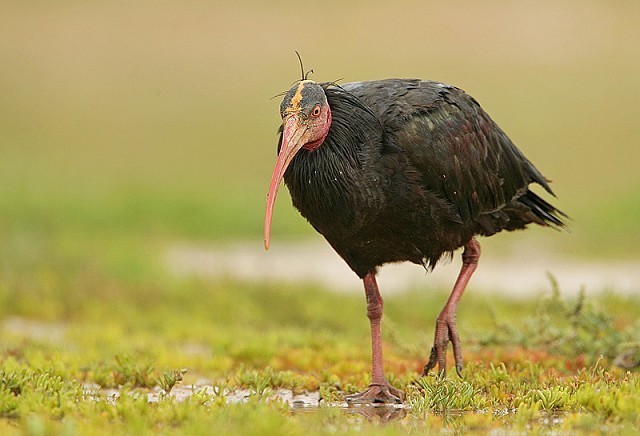 Bald Ibis, Morocco (Photo: Rudi Debruyne)
Ali Hammoud, Director General of Syrian GCB, said: "This is by far the biggest conservation partnership in the region to save the tiny ibis colony from the brink of extinction. With such collaboration, and despite of the challenges, the supplementation attempt is already a triumph."
Yasar Dostbil, the Director of Nature Protection and National Parks Directorate, in Turkey, added: "This is one of the best conservation studies ever carried out on a species seriously threatened with extinction. We are very glad to be a part of these efforts."