Night Parrot recorded in South Australia for first time in over a century
bb11e07d-ad3e-4ad3-9805-5adcac77ef07
The Australian Wildlife Conservancy (AWC) has confirmed the presence of Night Parrot in South Australia for the first time in more than 100 years.
AWC ecologists John Young and Keith Bellchambers found a Night Parrot feather in a Zebra Finch nest located in samphire at Kalamurina Wildlife Sanctuary, on the north shore of Kata Thandi-Lake Eyre. The feather has been independently confirmed as belonging to a Night Parrot by Ron Johnstone, the curator of ornithology at the Western Australian Museum.
The discovery was made after AWC ecologists followed a series of clues using expert field skills. The first clue was a cryptic shape captured on camera trap in 2016 in a remote location accessible only by helicopter. Noting that Night Parrots had been recorded in 1883 in similar samphire habitat near Lake Eyre, John Young and Keith Bellchambers identified the mystery shape as possibly this species. And so they began planning a dedicated search in one of Australia's most remote regions.
In July 2017, Young, Bellchambers and Kalamurina manager Mark McLaren flew over 600 km of transects across Kalamurina to locate potential Night Parrot habitat, applying knowledge gained by John Young in Queensland and evidence from the 1883 records.
From the helicopter, Young identified one prospective area which had a Wedge-tailed Eagle's nest adjacent to prospective samphire habitat. The team decided to concentrate on the eagle's nest, knowing that Zebra Finches often nest under an eagle's nest and the finches line their nests with feathers. The theory was that a Zebra Finch in the immediate vicinity may possibly have collected a Night Parrot feather. After examining many finch nests around the eyrie, Young found a small Night Parrot feather lining a recently built nest.
Young described the extraordinary findings: "Zebra Finches just love to build their nests in the base of a Wedge-tailed Eagle's nest, so we walked over to investigate. Keith and I looked at many Zebra Finches' nests before finally an unmistakable small green feather appeared within the fresh base lining of one of the nests.
"People show excitement in many different ways, mine was to shake uncontrollably with numbing excitement and Keith's was sheer disbelief with his hands holding his head. An incredibly emotional time for both of us.
"In my eyes there was no doubt that this was the feather of a Night Parrot and the fact that the Zebra Finches nest was fresh, it seemed feasible that it was collected within a few hundred metres in the past few weeks."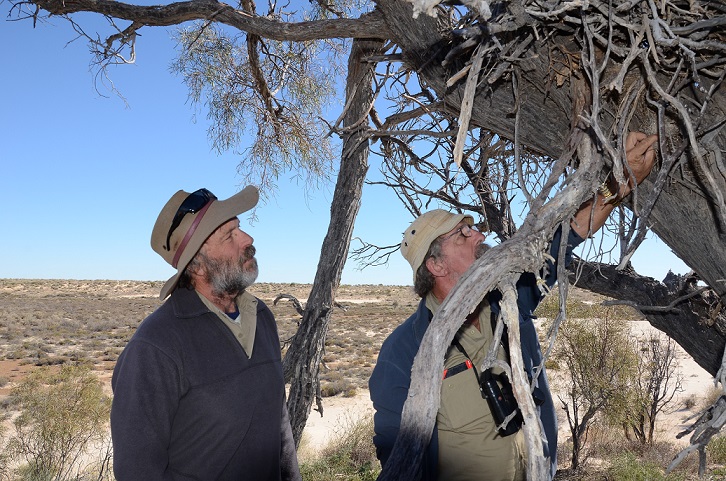 John Young and Keith Bellchambers inspect Zebra Finch nests at the Wedge-tailed Eagle eyrie. Photo: AWS.
The discovery dramatically reshapes current understanding of Night Parrot ecology. Populations of the species in Queensland (also discovered by Young) and Western Australia are resident in spinifex. However, the Kalamurina population is located in an area of samphire, with no available spinifex habitat.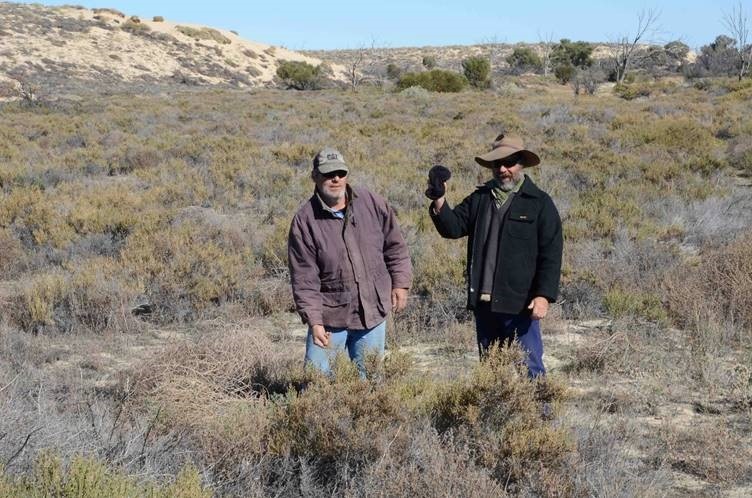 Keith Bellchambers and Mark McLaren in samphire habitat near where the Night Parrot feather was discovered. Photo: AWC.
After no confirmed records of live birds for more than a century, it is now clear that Night Parrot exists in several locations spread across the continent including at least three states (Queensland, Western Australia and South Australia).
AWC's management of Kalamurina has been important in securing and improving the integrity of Night Parrot habitats, including samphire. Kalamurina is the only property on the Warburton River (the major tributary of Kati Thanda-Lake Eyre) which is destocked and, in effect, feral herbivore free. It also has a healthy population of dingoes, which may reduce the threat posed by feral cats.
The next step in protecting the Lake Eyre Night Parrots is to map their distribution and assess the population size. This will require deployment of song meters and camera traps in one of Australia's most remote locations – an exercise that will cost around AUS$75,000.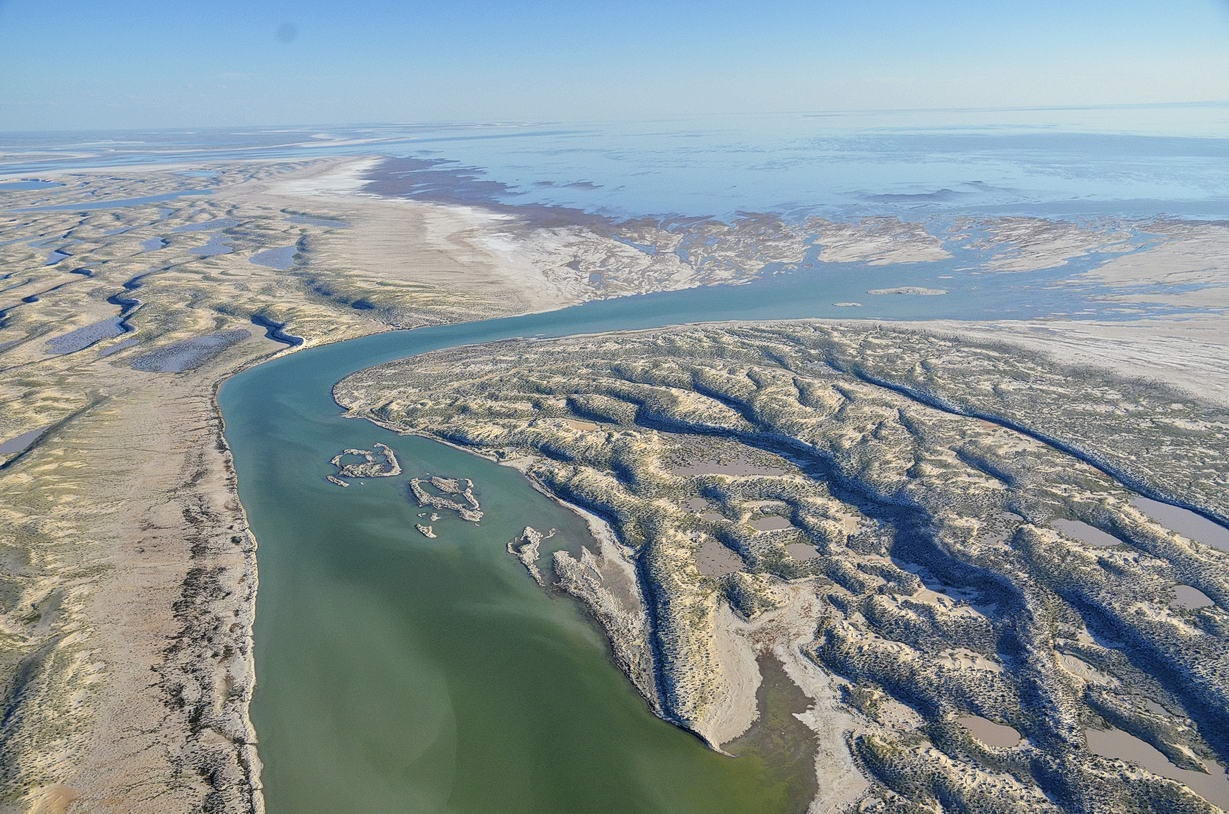 Kalamurina holds plenty of pristine habitat on north shore of Lake Eyre, and may well support a significant population of Night Parrots. Photo: AWS.