Nestboxes destroyed ahead of breeding season
9e0f7d68-8613-4476-b4df-3031b3105b23
Bird boxes on National Trust land have been smashed to pieces at Chute Wood, near Dunstable Downs. In total six nest boxes were destroyed, with local dog walker Jacqui Clarke discovering them on her regular walk, just a day after all were situated in their usual place high up in the trees. The RSPB has brandished the vandalism "disappointing". The incident has been reported to the police.
Clarke said of the discovery: "I was horrified, absolutely disgusted, really upset and annoyed. Every single one was smashed and on the ground. The rangers look after the area so well, this kind of mindless vandalism is heart-breaking. I can't understand their mentality, it makes me so angry and flabbergasted."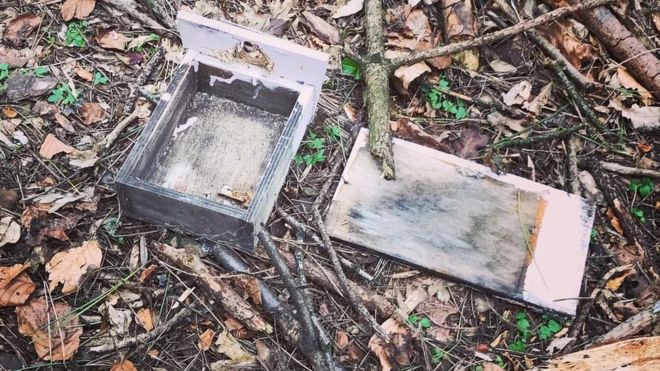 The six bird boxes were found destroyed on the ground (Jacqui Clarke).
Emily Kench, from the RSPB, said: "This is very disappointing to see especially as we are approaching the nesting season. Given the threats facing the natural world, more now than ever, we should be working together to give nature a home."
Despite the damage, the National Trust said it had been overwhelmed with offers of help to replace and repair bird boxes. Jon Powell, Countryside Manager for the National Trust at Dunstable Downs, said: "The bird nesting season has just begun and these boxes provided a safe habitat where birds such as Blue Tits could nest.
"We have been heartened by the overwhelming public response and the offers of help to replace and repair the damaged boxes. It shows how much people love and care for our special places and the wildlife that makes its home here."