Mystery Liverpool pigeon turns out to be related to Dodo
757910e1-a88c-45e9-a72b-9afab965df05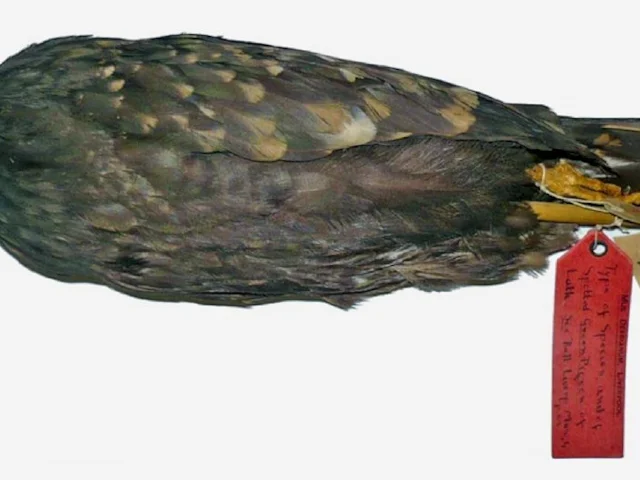 DNA has revealed an old museum specimen known as the 'Liverpool Pigeon' to be a genuine extinct species, and a close relative of the Dodo.
Having sat in the World Museum, Liverpool, Lancashire, since first being described in 1783, the only remaining specimen of Spotted Green Pigeon (aka 'Liverpool Pigeon') has finally given up its relationships by the power of DNA analysis.
An artist's reconstruction taken from the Liverpool specimen of Spotted Green Pigeon. Photo: Brian Small (commons.wikimedia.org).
The specimen has never had locality details as far as is known, but came from the collections of two collectors – Sir Joseph Banks and General Davies – known to have specialised in Oceania. Now this predicted source has been made more feasible as analysis of its molecules in a special 'ancient DNA' laboratory in Griffith University, Queensland, Australia, has revealed its long-suspected closeness to the odd Nicobar Pigeon, and both are also close to the ancestral form that gave rise to the iconic
extinct Dodo of Mauritius
and its relative, the Solitaire of nearby Rodrigues in the Indian Ocean.
Other outlandish variants of this ancient columbid tribe include the crowned pigeons of New Guinea and the
nearly extinct
Tooth-billed pigeon of Samoa
. All these anomalous doves form part of a prehistoric evolutionary dispersal into the Indian Ocean and south-western Pacific.
Three small sections of the specimen's DNA were taken from two sliced up feathers, and compared to those of its presumed close relatives. The shortness of the fragments from which its relationships were deduced formed part of an innovative technique which may open the door to other such revelations in the near future.
Its closest relative, Nicobar Pigeon, belongs to the same genus and is found on several islands in Indonesia, giving us a clue as to the putative origin of Spotted Green Pigeon, as the further from this source its relatives spread, the more outlandishly different they appear to become. The similarity between Nicobar and Spotted Green Pigeons probably points to an origin via evolutionary 'island hopping' in the Indonesian region. The glossiness of 'Liverpool Pigeon's' green neck feathers had already hinted at this relationship to some biologists.
As the only other known Spotted Green Pigeon specimen was lost, and there were no finders' data for either, it had been doubted whether the bird was even a species. Now this has been confirmed, it can be confidently but regrettably added to the long list of species lost to the world in recent times.
Reference
Heupink, T H, van Grouw, H, and Lambert, D M. 2014.
The mysterious Spotted Green Pigeon and its relation to the Dodo and its kindred
.
BMC Evolutionary Biology
14: 136.
Content continues after advertisements