More bad news for farmland birds
4291abd6-910e-41f1-be83-c824e194a393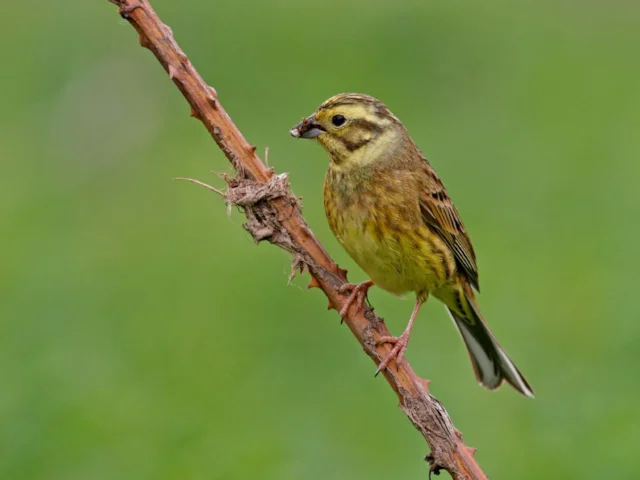 New figures published this week showed further declines in Britain's farmland bird species, as the RSPB called on DEFRA to make "every pound count".
The release of the official figures this week revealed another huge drop in the populations of bird species reliant on farmed landscapes, including European Turtle Dove, Skylark and
Yellowhammer
. almost simultaneously, the New Environmental Land Management Scheme (NELMS) was launched and the RSPB called on DEFRA this week to make "every pound count" in the wildlife-friendly farm scheme.
The government's
Farmland Bird Indicator
, which has been tracking the fortunes of 19 bird species that are dependent entirely on farmland, revealed further significant falls in numbers. Although partly driven by exceptionally bad weather in 2012, the underlying steady decline of the UK Farmland Bird Indicator has continued, with a 10 per cent decline in the last five years, and has declined by 55 per cent since 1970.
Reacting to the news, the RSPB urged all United Kingdom governments to ensure that payments to farmers for wildlife-friendly farming work as hard as possible, by directing funding to those farmers who can make the greatest contribution towards conserving farmland wildlife, especially those who have the potential to begin restoring farmland bird populations.
RSPB Conservation Director Martin Harper said: "The sights and sounds of birds like Skylark and European Turtle Dove are part of our culture and yet swathes of our countryside are falling silent as their numbers continue to haemorrhage."
Skylark has been helped in some places by the provision of set aside in arable fields, but its decline in numbers continues.
Photo: Chris Gomersall (rspb-images.com).
With less money available for official environmental payments in England, the RSPB believes DEFRA has a great responsibility to aid the recovery of birds and other farmland wildlife by ensuring that nature-friendly farming payments are targeted towards those farmers who can help wildlife the most.
Harper added: "Many farmers are already doing some great things through these schemes and without them, today's figures would undoubtedly be worse. But we need more to step up. As shown in last year's
The State of Nature
report, the declines in farmland birds are replicated in other species as well, particularly butterflies, moths and ground-dwelling beetles.
"If we carry on like this, it may be too late. DEFRA has proposed a new scheme for the next six years that could help to address these declines. The key now is following through on these proposals to ensure that the right actions are targeted to save these precious species. Only then will the pubic get value for money in the form of a countryside richer in nature."
In addition to the Farmland Bird Index, indicators have been published for several other habitats.
Woodland birds have remained stable in recent years, but remain down by 28 per cent overall, while wetland birds are a growing concern, having fallen by 12 per cent in five years; overall they are now 17 per cent down on their 1975 start point. The seabird indicator has declined by nine per cent in five years and is down by 24 per cent since 1986.
Harper added: "With all the wild bird indicators showing strong declines, today provides another clear signal that the UK's nature is in crisis."