May's Birdwatch – out tomorrow!
4bce586f-0e2a-4cf1-909c-3636c330ad89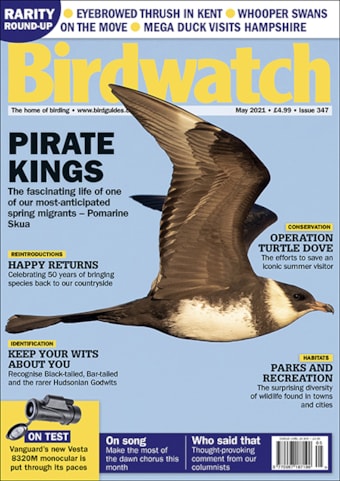 The May 2021 issue of Birdwatch goes on sale on Thursday 22 April.
In this edition, the RSPB's Guy Anderson, Jake Zarins and Helen Moffat look at the reasons behind the fall of European Turtle Dove and some unique conservation actions being taken to reverse the loss – as well as how you can help.
Continuing our occasional series on habitats, Dominic Mitchell looks at parks and gardens in Britain's towns and cities, and their importance to both birds and birders.
While talking about his new book, ornithologist and ecologist Roy Dennis reflects on 60 years of rewilding our skies, woods and waterways.
As the first returning flocks of Pomarine Skuas are seen off our shores, David Callahan explores the biology of this enigmatic and piratical passage migrant.
This month's ID guide is dedicated to godwits, with Josh Jones providing the information you need to distinguish Bar-tailed, Black-tailed and Hudsonian.
In addition to this, we assess Vanguard's new Vesta monocular, as well as report on all of March's rarity news from across Britain, Ireland and the Western Palearctic. Columnists Mark Avery, Dominic Mitchell and Sian Mercer air their thoughts, while there's further news, reviews and expert advice from the team.
You can buy the issue online with free UK p&p, or take out an annual subscription. Subscribers to BirdGuides Ultimate receive annual subscription to the magazine as part of their deal.
In the digital edition
This month's digital edition includes lots of bonus content, including video footage of rarities in Britain and Ireland, as well as sound files and much more.
The digital edition is available for PC, Mac, iPhone/iPad and Android. Sample issues are free, and subscriptions or single copies can be purchased. Click here to find out more.