Man fined for shooting Herring Gull
efad0ba5-db92-408b-b665-9ff2f6e63357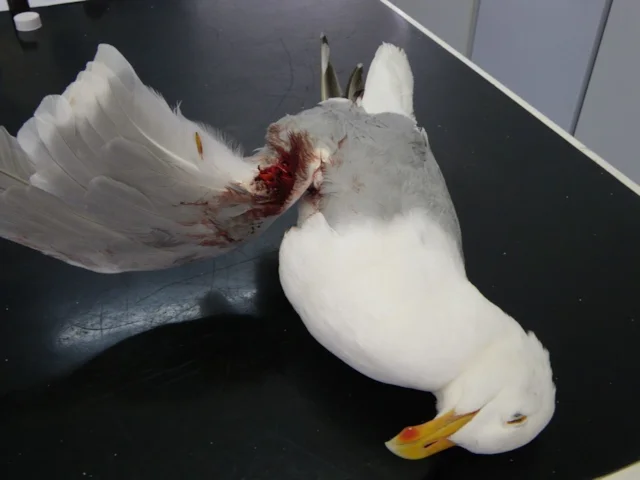 A Cheshire man has been fined for shooting a Herring Gull which a vet said suffered enough after a pellet broke its wing to cause the bird to be put down.
Clive Cresswell of Brookfield Gardens, West Kirby, Wirral, Cheshire, appeared at Wirral Magistrates' Court on Wednesday (26 August), where he pleaded guilty to intentionally injuring the Herring Gull, an offense under the Wildlife and Countryside Act 1981. Mr Cresswell was ordered to pay costs of £911 and was given a 12-month conditional discharge.
The court heard that Mr Cresswell shot the gull with an air gun because the bird was a "nuisance", was noisy and defecated on his car. A vet found that the pellet from the air gun had caused severe injuries to the bird's wing, leading to the bird being euthanised on humane grounds. Herring Gulls are a protected species and their numbers are in decline.
RSPCA Inspector Anthony Joynes, who investigated the case, said: "This gull is likely to have be a great deal of pain as a result of this brutal and illegal attack, and the judge in this case was quite clear that he thought it was unacceptable.
"The vet said that this gull would have suffered immensely. His wing was hanging off and the bones were protruding. If a member of public had not found the gull, he would have died of starvation – a prolonged and painful way to die.
"This sends out a strong message that all wild birds are protected by law, from Herring Gull to Feral [Rock Dove] to Golden Eagle, regardless of which ones members of the public decide they consider to be a nuisance."
Llewelyn Lowen, from the RSPCA's wildlife department, said: "We have hundreds of gulls in our centres in need of care every year. Sometimes the gulls are injured by natural causes, but others are definitely the victims of purposeful attacks – some of them shockingly savage.
"
Lots of people have surprisingly fierce feelings against gulls
. We believe that all it takes is a little care and understanding to minimise any inconvenience caused by gulls – they are normally just behaving in a natural way.
"For instance, you can't blame them for not knowing the difference between scraps willingly offered and your own bag of chips. They are simply wild animals following their instincts to find food. They don't necessarily know that their nest is blocking your gutter, and like any protective mum their swooping is often just a way of keeping their babies safe."
Gulls are protected under the Wildlife and Countryside Act 1981, which means that it is illegal to kill, injure or take them, to intentionally damage or destroy a nest that is in use or being built, or to take or destroy their eggs (or those of any wild bird). Action can only be taken against them under licence. The RSPCA believes that humane deterrents and non-lethal methods of control are far better at helping to reduce problems. Not feeding the gulls and disposing of rubbish properly is one thing we can all do to prevent gulls from causing a nuisance.
Herring Gulls in particular are a species of conservation concern and research has shown that overall the species' populations are actually in decline.
If you find an injured gull, or have any information of a gull being treated cruelly, please call the RSPCA's cruelty line on 0300 1234 999.
Content continues after advertisements