Malta bird massacre condemned
e61c1831-4e0f-4c78-b4e6-1d24fe2abcd7
A grisly discovery of the carcases of 137 protected birds, such as Marsh Harriers and herons, has been made during a joint operation on Malta involving 40 birdwatchers from BirdLife Malta — the RSPB's partner in the islands — and the German-based Campaign Against Bird Slaughter.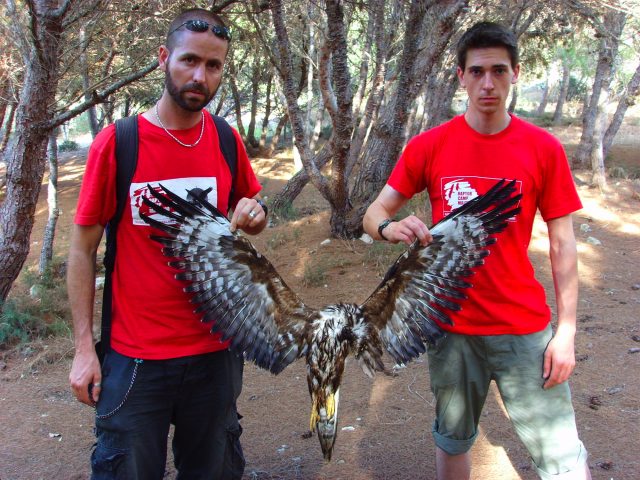 Dr Andre Raine and Garry Clewley with a freshly killed Honey Buzzard (Photo: Louise Greenwood/BirdLife Malta)
Over the weekend, the remains of the birds were found concealed among stones and rubbish in Mizieb, an area frequented by scores of hunters in the north of the main island. The haul, so far, includes: 34 Marsh Harriers; 17 Honey Buzzards; 19 falcons, including Kestrel and Hobby; 29 herons; and 33 skeletons of birds of prey, the identity of which are still being determined. Some of the birds discovered were newly killed, while others were the remains of birds killed weeks or months earlier.
Content continues after advertisements
The RSPB joins the organisations' call for a Maltese government enquiry and condemnation into this 'shocking discovery'. The incident is one of the largest single hauls of dead protected birds yet recovered in Malta. BirdLife Malta is highly concerned at the relative lack of government and police action on this outrageous discovery. Joseph Mangion is the President of BirdLife Malta. Speaking about the incident he said: "We demand from the government that they stop claiming that illegal hunting is under control and instead start treating this international conservation problem as a political priority."
Tim Stowe is the RSPB's International Director. He said: "The discovery of these corpses is further proof of the scale of illegal hunting in Malta, which is an international scandal. The Maltese government must recognise that these acts bring shame on Malta as well as posing a direct threat to many of Europe's protected bird species. The illegal hunting of protected birds can have no place in a modern Europe."
The recovery of these dead birds was a joint operation between BirdLife Malta and the Campaign Against Bird Slaughter: both organisations have been organising separate bird protection and migration observation camps in Malta this autumn. Autumn is a key bird migration period in Malta as many birds fly over the islands from Europe en route to their African wintering grounds. Volunteers from both organisations have reported protected birds being targeted in several areas in the island, including the Mizieb woodland.
"What we have been witnessing over the last two days, together with the shocking finding in Mizieb, is a sad reflection of the true scale of illegal hunting in Malta. What we have uncovered is only the tip of the iceberg, as the scope and range of our teams is limited and we can therefore only cover a small geographical area of the Maltese islands," said Axel Hirschfeld, CABS press officer.