Mallard's injuries highlight the dangers of thoughtless littering
2ec1e6a1-6448-477a-9537-1827f1778529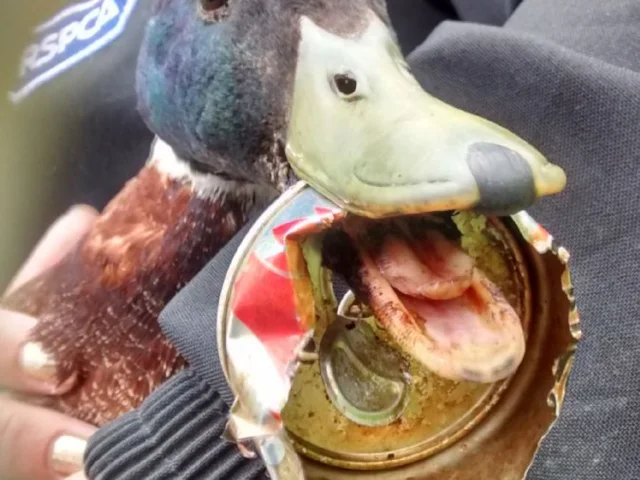 The RSPCA has issued horrific photographs of an injured Mallard with its bill stuck in a discarded drinks can to highlight the devastation of littering on wildlife.
A drake Mallard that was left in agony in Mereside, Shrewsbury, when its beak was trapped in a discarded drinks can has been rescued by the
RSPCA
. Members of the public spotted the duck with the serrated can stuck around its lower beak and tongue, leaving it unable to feed or drink.
After successfully catching him
RSPCA
officers cut him free from the can before rushing him to a nearby wildlife rescue centre for treatment.
The injured drake Mallard in the safe hands of an RSPCA officer. Photo: RSPCA
RSPCA animal welfare officer Elaine Williams said: "This poor Mallard must have been in so much pain. When we found him the top half of a drinks can was caught around his lower beak with the sharp edges cutting in to his tongue and beak. He must've been in absolute agony. There was a lot of blood and the wounds were deep. It was shocking to see. Thankfully we were contacted by members of the public about him otherwise he may have starved to death.
"We do not know how long he had been like that. While he was a little underweight he was still a good size so we hope we have caught him in time. He is now receiving care at Cuan House Wildlife Rescue and we hope he makes a full recovery."
She added: "Litter inflicts such needless suffering to animals and this case shows just how destructive it can be and how much pain it can cause."
Content continues after advertisements