Lumley's London folly
24494106-ee7a-4f71-a2cd-c05c8856ba51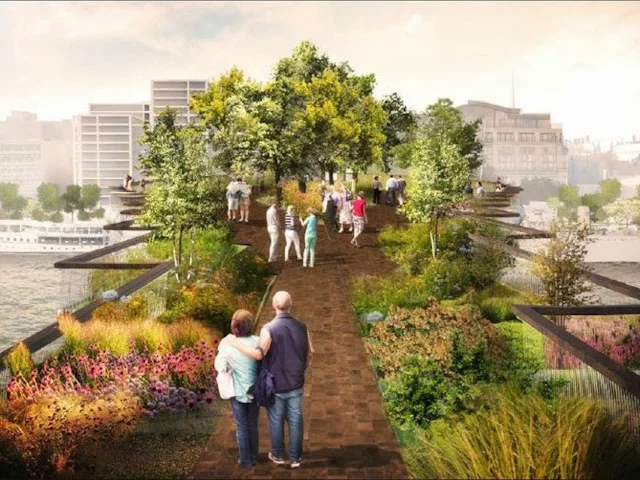 The London Wildlife Trust (LWT) has condemned the Garden Bridge – proposed as a pedestrian link over the River Thames – as having little value for Londoners or their access to nature.
The bridge, designed to span the River Thames and link Temple with the South Bank, is destined to cost £175 million, of which £60 million will come from public funds pledged by City Hall and the Treasury. Initially conceived by the actress Joanna Lumley and designed by Thomas Heatherwick, construction has been approved by Lambeth Council, Westminster City Council and Mayor Boris Johnson, despite public criticism of the costs and location.
The bridge will provide just 2,500 m2 dedicated for plants, the equivalent of less than half a football pitch. Meanwhile, London is estimated to be losing green space at a rate of two and a half Hyde Parks (3,550,000 m2) each year as gardens are paved over or built on,
according to the LWT's own research
.
Some Londoners themselves are not too pleased with the idea – on 17 February lawyers at Leigh Day announced they were assisting a Lambeth resident, Michael Ball, in mounting a legal challenge to the Garden Bridge on the basis that the decision by London Borough of Lambeth to grant planning permission was unlawful.
The LWT says that London is desperate for better green spaces that will provide real benefits to the people who live and work here. Rather than investing huge sums of public money in what is essentially a tourist attraction, we should be rescuing London's under-funded parks and creating green spaces across London.
A recent analysis by Heritage Lottery Fund found that 86 per cent of park managers report cuts to revenue budgets since 2010, and that they expect the trend to continue until at least 2017. In addition, 81 per cent of council parks departments have lost skilled management staff since 2010, 77 per cent have lost frontline staff, and 45 per cent of local authorities are considering selling parks and green spaces.
Carlo Laurenzi OBE, LWT Chief Executive, said: "The concept of green bridges is a good one, but the location and design of this bridge seems to reflect personal vanities rather than any meaningful attempt to connect Londoners to the capital's rich natural and horticultural heritage. This huge investment of public funds would be much better spent on improving communal green spaces across London, benefiting Londoners of all ages at a local and accessible level."
According to Mathew Frith, LWT Director of Policy and Planning, there is no need for the Garden Bridge: "Londoners didn't call for it and nature doesn't need it. The Garden Bridge promises much, but its ecological contribution comes at a cost that is wholly disproportionate to its impact. The only animals likely to use the bridge in any numbers will be pigeons, gulls and Cormorants, and the experience of London's first green bridge at Mile End suggest that a limited suite of plants are likely to cope with the exposed conditions."
"Sixty per cent of species are in decline across the UK and more and more people are disengaging from the natural world. Meanwhile many of London's wildlife sites are under threat from declining management budgets and developments. The bridge represents disconnected thinking wholly contrary to the Mayor's stated ambition. £60 million of public funding could make a huge difference to the management of our parks and nature reserves across London. Many of our rivers and waterways are polluted; our public woodlands are crying out for better management and most of London's parks are facing increasing budget cuts. And yet our politicians have chosen to invest taxpayers' money in a bridge that has little purpose other than to look good."
The bridge will be clad in 240 tonnes of copper-nickel, donated by multinational mining company Glencore, giving it a high 'bling' factor. The copper-nickel alloy has been chosen not just because of its high resistance to corrosion, but because it is one of the least wildlife-friendly building materials available. Even bacteria struggle to cling to the material, which has traditionally been used by shipbuilders to prevent barnacles and mussels growing on the hulls of boats. Aside from the manicured gardens, it seems that nothing natural will be allowed to grow on the Garden Bridge, above or below the surface of the Thames.
LWT initially supported the concept of a Garden Bridge –
which the RSPB has also heavily criticised
–during the public consultation, suggesting that if it were built it should be named after William Curtis, the 18th century botanist who published the first study of London flora in 1777-79. However, the Trust has re-evaluated that support in light of the rising and significant public costs, and the poor ecological value now represented by the bridge.