Long-lived cuckoo starts northward migration
8b02f840-86ab-4c08-b4b1-9eff7e772afa
The BTO has reported that one of its tagged Common Cuckoos has commenced its spring migration.
The male cuckoo, named 'PJ', is famous for being the longest-lived of all the BTO's tagged birds, having been fitted with a tracker as a mature bird on 7 June 2016 at King's Forest, Suffolk. Since then, he has returned to East Anglia each summer – this will be the fifth consecutive spring migration in which he has provided the BTO with valuable data.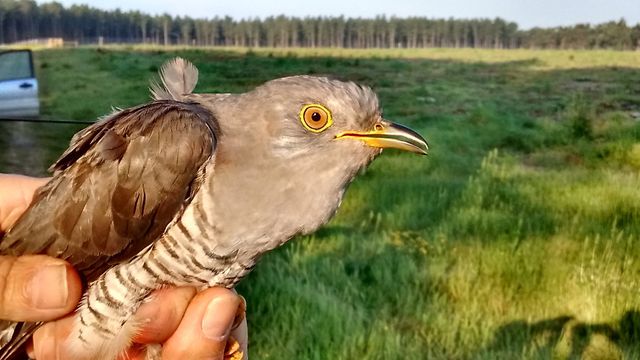 PJ was tagged in Suffolk in June 2016, and has returned to the county each summer since (BTO).
After spending the mid-winter period in Angola, PJ started moving slowly north in late January, first into Congo before hopping over the border into eastern Gabon. The second half of January is a typical time for PJ to begin his northward movements.
In the first half of February, PJ moved a further 900 km north from Gabon to Cameroon. He is now in an area of Guinean savanna near the Meng River, where he spent three weeks in February 2020. Last year his journey from there took him west through Togo to the Ivory Coast, where he builds fat reserves ahead of a Saharan crossing, and the BTO expects him to make a similar movement in the coming fortnight.
Meanwhile, two other tagged cuckoos – Valentine and Carlton II – remain on rainforest wintering grounds in Angola and Gabon respectively, although it is anticipated that they too will begin to move north very soon.
The BTO hopes to tag a further 10 Common Cuckoos in Britain this summer, in order to continue its long-running project into the declining species. The organisation is fundraising to achieve this; if you'd like to consider making a donation to this cause, or sponsor a cuckoo, find out more here.