London's garden birds disappearing?
736a3f6e-7f8f-41a8-a1d7-5f018badc5d6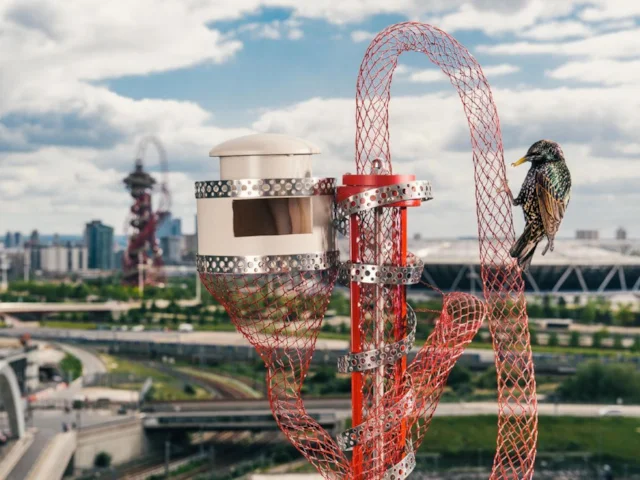 Results from the Big Garden Birdwatch suggest a decrease in numbers of garden birds in London, and the RSPB has commissioned special nest boxes to highlight this decline.
London's most common garden birds seem to be quietly vanishing from the city's green spaces, and research has revealed that Starlings (down 34 per cent), Blackbirds (19 per cent), Blue Tits (14 per cent) and House Sparrows (13 per cent) have disappeared from its gardens over the past 12 years. This data on declining species has been taken from the RSPB's 2016 Big Garden Birdwatch, the largest citizen science survey in Britain, and was collated and analysed by the RSPB's Centre for Conservation Science.
There does indeed seem to be a general trend of decline,
though this may be exaggerated this year by the effects of a very mild winter
, which has seen many species foraging away from gardens, and an increase in the numbers of Goldfinches and Long-tailed Tits.
To highlight this decline and encourage Londoners to attract the missing birds back to the city, East Village – which has the recently created postcode E20 – has enlisted local Essex carpenter Pete Bagg to create a number of unique nest boxes in the form of iconic buildings of the London Skyline. These include historic buildings such as Buckingham Palace and Tower Bridge, along with to E20's very own ArcelorMittal Orbit and Lee Valley Velodrome. E20 has hosted breeding Black Redstarts in recent years. East Village is the former London 2012 Athletes' Village and represents a green haven in the heart of one of the world's largest cities.
Neil Young, CEO of Get Living London which rents and manages homes at East Village, said: "As one of London's greenest neighbourhoods with a big emphasis on the natural environment, East Village has invested heavily to encourage wildlife. Whether it be through 'living roofs' on each apartment building, the 3,000 trees – newly planted in 2011 – or [providing] 25 acres of green open space, we have worked hard to make East Village eco-friendly. With the six-acre Wetlands – a brilliant habitat for native biodiversity – we are delighted to partner with the RSPB to create these unique bird boxes to help encourage even more birds into the neighbourhood."
The quirky bird boxes will go on show outside Get Living London's East Village 'Welcome Office' from 26th May and will eventually be placed around London's newest neighbourhood in time for next year's breeding season. The scheme has been introduced this spring as a 'call to action' for the nation to play their part to encourage birdlife wherever they live in the UK.
Big Ben is another London landmark rendered as a nest box by local carpenter Pete Bagg, to underline the need for even common birds to be accommodated in the city.
Tim Webb of the RSPB said: "The number of birds in our capital and in cities across the country, has decreased hugely as we become increasingly urbanised so it's great to see a neighbourhood like East Village directly addressing the issue, as well as raising the awareness of the problem to the rest of the nation. East Village is already a great habitat for birds, especially with the Wetlands so close by, so we expect the new bird boxes to be very popular with different species, especially house sparrows and blue tits, encouraging more into the neighbourhood."
Another big challenge for urban birds is finding food. The RSPB is working with a number of landowners to increase nesting opportunities and food availability. Garden birds need an abundance of natural food, including flying and crawling bugs, seeds, berries and nuts. Sowing wildflowers increases numbers of pollinators and other insects and this can be done on balconies and roofs. In larger spaces, planting hedges, trees and shrubs boosts biodiversity, and grassy areas are also important for wildlife.
Ten iconic nest boxes have been created in total to be displayed in East Village, representing 10 famous local and London landmarks: Buckingham Palace, Tower of London, ArcelorMittal Orbit, BT Tower, Tower Bridge, The Gherkin, Big Ben, Battersea Power Station, Lee Valley Velodrome, One Canada Square and Canary Wharf. The full collection will be available to view outside the Get Living London offices at East Village E20 for the next eight weeks, before each box is moved to its permanent home at green locations around the neighbourhood.
The partnership with the RSPB will also include support towards its Rainham Marshes nature reserve to encourage east Londoners to get outdoors and be active. The project, supported by Sport England and Havering Council, offers running, cycling, bouldering, orienteering and yoga opportunities in the unique surroundings of the nature reserve.
The full 2016 Big Garden Birdwatch results can be found here:
rspb.org.uk/birdwatch
.
Content continues after advertisements