Little Bustards shot at French airport
19930ecc-8743-4aa9-8d49-e50d8395d7d8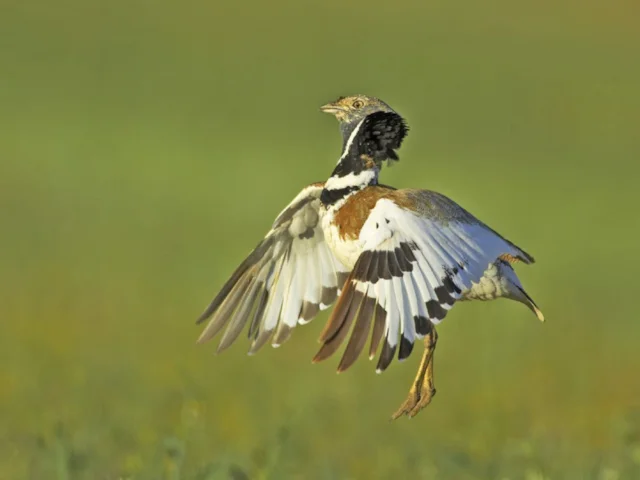 Following a near miss at its international airport, Marseille authorities gave the go-ahead to destroy a flock of Little Bustards.
On 25 June, the prefect of the Provence-Alpes-Côte d'Azur (PACA) region, authorized the shooting of up to 50 Little Bustards at Marseille Provence Airport because of the risk to aviation safety. This decision followed the narrow avoidance of what was considered a potentially serious accident on May 31 involving an Airbus A320. A large flock of the bustards was then present on the site.
Little Bustard is listed as Near Threatened by BirdLife International due to a decline in its global population, resulting from the loss of natural dry grassland and traditional low-intensity cultivation in favour of intensive arable farming. The large, open grassy spaces of airports are consequently potentially attractive to bustards, and Marseilles Provence Airport is already known as a productive site for them.
In response to this decision, the LPO (BirdLife partner in France) sent a letter to the state representative to find a quick solution to the potential bird-strike problem, without destroying any more individuals of a declining bird that is the subject of a conservation National Action Plan in France. The LPO consider the destruction of the birds to have been illegal, as the species is protected under French and EU law.
The LPO also organised a meeting on 27 June to discuss the framework of the Little Bustard National Action Plan, bringing together governmental bodies and regional coordinators for PACA and the adjacent Languedoc-Roussillon region. At this meeting, LPO proposed a short- and medium-term action plan to prevent radical solutions like the shooting of the birds from happening again.
Allain Bougrain Dubourg, President of LPO, met the Secretary General of the Prefecture of the Bouches-du-Rhône, who ensured the immediate suspension of the shooting. Thirty-eight bustards were, however, already killed in those few days, even though they were in the process of breeding. Following another meeting on Tuesday, 2 July 2013, the Secretary General confirmed the repeal of the decree.
LPO has stated that it applauds this decision, but will remain vigilant on the status of Little Bustards at southern French airports. In the meantime, it will lead a working group under the NAP, in conjunction with all parties concerned to prevention risk to aviation safety.
Thanks to Jonathan Williams
Content continues after advertisements