Lebanese President speaks out for migratory birds
d9f3be46-1f49-4acb-995e-43c41d96ab1d
Lebanon's President, Michel Aoun, has made a heartfelt pledge to prevent the annual slaughter of the millions of migratory birds that fly over the small Mediterranean nation every spring and autumn.
Lebanon has become notorious for its illegal hunting, particularly in recent years as local hunters post images depicting the fruits of their industrial-scale killings on social media outlets. Photos showing dozens, sometimes hundreds, of passerines laid out on car bonnets are depressingly commonplace, as are images of grinning hunters holding aloft dead storks and birds of prey. In terms of birds killed per square kilometre, Lebanon ranks third, trailing only Malta and Cyprus.
But it is hoped that the end of the country's position near the top of this unenviable list is in sight, as Mr Aoun recently made an emotional appeal to the nation to put the country's nature first: "It is a shame to turn Lebanon into a wasteland without plants, trees, birds and sea animals, and cutting off trees to erect buildings is a major crime. There should be a peace treaty between man and tree as well as man and birds, because we continue to transgress upon them."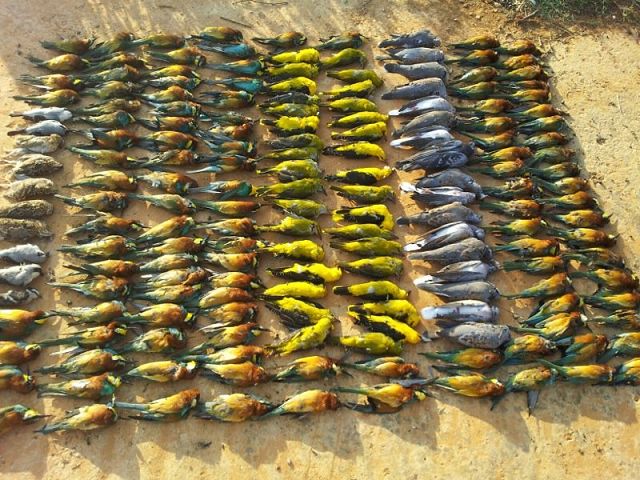 Slaughtered Golden Orioles, European Bee-eaters and European Turtle Doves among other species in Lebanon (Photo: Georges Hareb)
Lebanon's biggest issue is unrestricted and illegal hunting, which is rife in many areas of the country. Some 2.6 million birds are thought to be shot or illegally trapped here each year. President Aoun added: "There should be a hunting season assigned from September to December, with the State exercising strictness in its execution."
Content continues after advertisements
This announcement was greeted warmly by the Society for the Protection of Nature in Lebanon (SPNL), which has been working on sustainable hunting and protected areas since its establishment in 1984. The organisation's Director General, Assad Serhal, commented: "SPNL, with the support of Birdfair and BirdLife International, is promoting responsible hunting practices to support conservation efforts and proper law enforcement. Training for law enforcement officers and hunting clubs, mainly on bird identification and hunting law, is a crucial step that should start promptly."
Politicians' credibility may not be at historical highs these days, but the new Lebanese campaign seems solid enough to ward off the usual scepticism. On 4 April Lebanese Minister of the Environment, Tarek Khatib, announced that an autumn hunting season will run from 15 September until the end of December 2017, stressing that hunters requesting licensing will be subject to close scrutiny. During the press conference, Khatib also pointed out that official hunting clubs were chosen to conduct the examinations and that penalties for violators will be issued through security agencies.
Patricia Zurita, BirdLife CEO, commented: "Our tireless campaign to end the illegal killing of birds is bearing important fruits. BirdLife's GEF/UNDP Migratory Soaring Birds project implemented nationally by the Ministry of Environment and SPNL over the past five years, has provided key guidance and the procedures that are now the backbone of the hunting management in Lebanon. The BirdLife family today celebrates the political support from the Lebanese President. We are ready to help put this 'peace treaty' into action."