Large-billed Reed Warblers found breeding in Afghanistan
b08aa73d-d1bf-489b-9a40-c0f206821ddc
Wildlife Conservation Society researchers have discovered the breeding area of the Large-billed Reed Warbler Acrocephalus orinus in the remote and rugged Wakhan Corridor of the Pamir Mountains of northeastern Afghanistan. A preliminary paper on the finding appears in the latest edition of BirdingASIA, the Bulletin of the Oriental Bird Club.
Using a combination of astute field observations, museum specimens, DNA sequencing, and the first known audio recording of the species, researchers verified the discovery by capturing and releasing almost 20 birds earlier this year, the largest number ever recorded.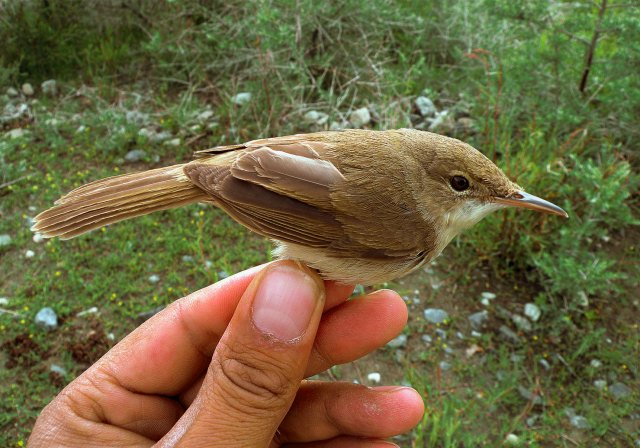 Large-billed Reed Warbler in the hand, Zebak, 14th June 2009. (Photo: WCS Afghanistan)
The discovery of Large-billed Reed Warblers in Afghanistan represents a watershed in the study of this bird, dubbed "the world's least-known bird species" by BirdLife International in 2007. The first specimen was discovered in India in 1867, with more than a century elapsing before a second discovery of a single bird in Thailand in 2006.
"Practically nothing is known about this species, so this discovery of the breeding area represents a flood of new information on the Large-billed Reed Warbler," said Colin Poole, Executive Director of WCS's Asia Program. "This new knowledge of the bird also indicates that the Wakhan Corridor still holds biological secrets and is critically important for future conservation efforts in Afghanistan."
Content continues after advertisements
The find serves as a case study in the detective work needed to confirm ornithological discoveries. In 2008, Rob Timmins of WCS was surveying birds along the Wakhan and Pamir Rivers when he heard a distinctive song coming from a small, olive-brown bird with a long bill. Timmins taped the song and later heard and observed more of the same species.
Initially, Timmins assumed these birds to be Blyth's Reed Warblers, but a visit to a Natural History Museum in Tring to examine bird skins resulted in a surprise: the birds he had seen were clearly another species. Lars Svensson — an expert on the Acrocephalus warblers and familiar with their songs — realized that Timmins' tape was probably the first recording of a Large-billed Reed Warbler.
The following summer (June 2009), WCS researchers returned to the site of Timmins' first survey, this time with mist-nets to catch birds for examination. Using tape playback, almost 20 Large-billed Reed Warblers were trapped for examination and to collect feathers for DNA sequencing. Later comparison with museum specimens, measurements, field images, and DNA analysis confirmed the exciting finding: the first-known breeding population of Large-billed Reed Warblers.
WCS is currently the only organization conducting scientific conservation studies in Afghanistan — the first such efforts in over 30 years — and has contributed to a number of conservation initiatives and activities in partnership with the Afghanistan Government, with support from USAID (United States Agency for International Development).
In 2009, the government of Afghanistan gazetted the country's first national park, Band-e-Amir, established with technical assistance from WCS's Afghanistan Program. WCS also worked with Afghanistan's National Environment Protection Agency (NEPA) in producing the country's first-ever list of protected species, an action that now bans the hunting of Snow Leopards, wolves, Brown Bears, and other species. In a related effort, WCS now works to limit illegal wildlife trade in the country through educational workshops for soldiers at Bagram Air Base and other military bases across Afghanistan.
You can download a PDF of the article
here
(416 KB).