Keeping tabs on parakeets
9d27ff4d-7043-48d4-b6da-fdebaedf63dc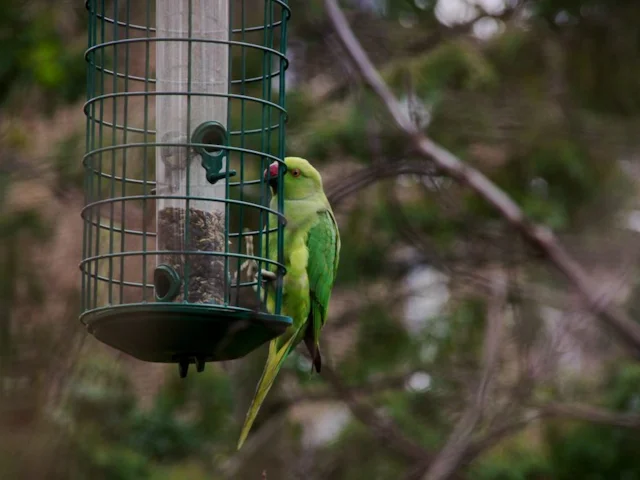 As introduced Ring-necked Parakeets reach a new high in numbers across Europe, a university is asking the public to report sightings to monitor them.
Research co-led by the University of Brighton shows that there are now as many as 85,000 Ring-necked Parakeets across the Continent, and the numbers are increasing all the time.
The non-native Ring-necked Parakeet is now a common sight in many parts of Europe and several cities in Britain, but could they be causing damage? Researchers are now asking members of the public to help keep tabs on numbers by reporting sightings of the species, which is brightly coloured and usually quite easy to see and hear. Websites such as
BirdTrack
and
eBird
are suggested as the best places to report your sightings.
The recent study, conducted by Dr Rachel White, Senior Lecturer in ecology and conservation from the University of Brighton, and European colleagues as part of the ParrotNet research network, has shown that parakeets are well and truly on the march across European cities.
The research provides an overview of the status of Ring-necked Parakeet populations across Europe, along with the most detailed estimate of the total number of European populations so far. In
eastern and northern Europe
, Ring-necked Parakeets remain scarce, but across other parts of the Continent, numerous growing populations can be found, totalling at least 85,000 birds. The birds first became established after escaping or being released from captivity; the species is a common and popular cagebird.
Britain currently hosts around 8,600 breeding pairs of Ring-necked Parakeet (and a post-breeding population of 30,000) according the British Trust for Ornithology's
Bird Atlas 2007-11
, which has resulted from a 10-fold increase between 1995-2010. Greater London has supported roosts of up to 6,000 birds in recent years, though the sites for these change regularly. Currently the species appears to rely on urban habitats and a close association with humans, and breeds sporadically in cities as far north as Newcastle, with the occasional sighting into Scotland. The real concern is if these burgeoning birds start to spread into arable habitats, as has occurred in some other countries.
Dr White said: "Invasions by non-native species are considered a major threat to biodiversity, agriculture and sometimes human health. Ring-necked Parakeets in Europe [originally came from] from India and Pakistan. They are clearly very successful invaders and although serious impacts are currently unknown, the enduring growth of their populations raises concerns.
"In Israel, Ring-necked Parakeets are culled because of alleged damage to sunflower crops, date palm and almond trees, while in Spain it is no longer legal to breed these parakeets as pets, to reduce the risk of escapees.
"Since the early 1970s, at least 90 Ring-necked Parakeet populations have [become] established in 10 European countries and most of these populations are growing [rapidly]. It is, therefore, important to keep track of this avian invader.
"Ring-necked Parakeets gather at communal roost sites to spend the night, and thousands of parakeets can gather at such sites. Roost counts consequently are an excellent place to conduct population counts. Yet, because of ongoing range expansion, it becomes harder and harder to locate all roost sites and to find sufficient volunteers to conduct such roost counts."