Israeli-Palestinian team wins new international bird race
a34fc787-3b91-456a-bb2f-6bb840e28ea4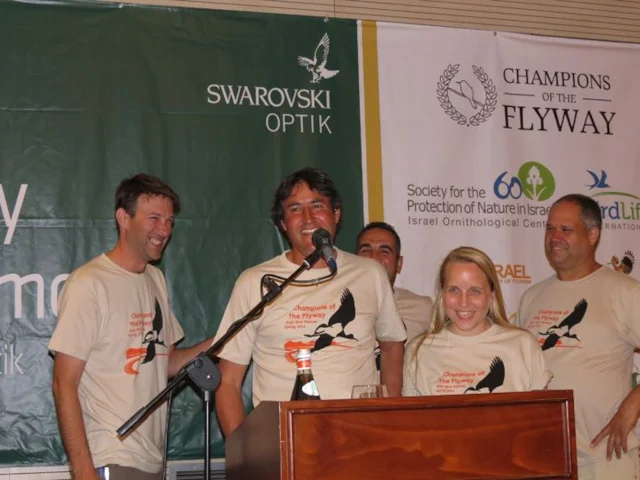 In an emblematic display of co-operation and endeavour, a mixed team of Israeli and Palestinian ornithologists came top of the rankings in the inaugural
Champions of the Flyway
bird race, held at Eilat, Israel, on 1 April. The Palestinian Sunbirders – with team members Noam Weiss (captain), Jessie Schackermann and Sa'ed A-Shomal – took the main prize by recording the very high score of 169 species inside 24 hours.
Acknowledging their local advantage, however, and in a gesture of great sportsmanship, the Sunbirders opted to share the honours with the Cornell eBirders, the highest-ranked wholly non-local team (and record-setters in their native North America), who were ranked second with 165 species. The Cornell team featured Chris Wood (captain), Jessie Barry and Marshall Illif.
But the highest score of all came in the 'Israeli factor' section of the event for purely local competitors, with the JBO Orioles team from Jerusalem Bird Observatory – with Alen Kacel (captain), Yosef Kiat, Inbal Goldstein and Avner Rinot – logging a huge total of 175 species.
In all, 13 teams took part in the international section of the event, including the Birdwatch-BirdGuides Roadrunners – captained by Dominic Mitchell, with Ian Lycett, Mike Alibone and Morten Bentzon Hansen – who logged a respectable 132 species to tie with the Flyway Racers and come in just behind the BirdLife Swarovski Optik Racers on 135 species. A further five Israeli teams competed against each other, and it was encouraging to see a number of enthusiastic young local birders also participating.
Organised by the Israel Ornithological Center, which is part of the Society for the Protection of Nature in Israel, the Champions of the Flyway event is based at the migration hot-spot of Eilat, but uses a huge 'field of play' extending north-west to Nizzana on the border with Egypt, and north-east along the Jordanian border in the Arava Valley. Some teams covered well over 600 km during the course of the day, and cumulatively they logged a grand total of 249 species – more than 45 per cent of all species ever recorded in the country.
Most importantly of all, the event succeeded in its aims to raise funds for BirdLife International's work to stop the illegal killing of migratory birds on the Eastern Mediterranean Flyway. By 3 April more than £35,000 had been raised through team donations and sponsorship, with
the Birdwatch-BirdGuides Roadrunners
being one of the stronger-performing fundraisers. We'd like to thank all readers and donors for generously supporting our efforts in this event, which has now achieved 99 per cent of its overall fundraising target.
As a result of this success,
The Batumi Raptor Crew
, representing
Bird Conservation Georgia
, have already received a cheque for $30,000 presented by Angelo Caserta, BirdLife's Regional Director for Europe and Central Asia. These funds raised by sponsors, participants and supporters of Champions of the Flyway will help fund innovative conservation actions to protect birds of prey migrating through the Batumi Bottleneck in Georgia. Other monies raised will help fund other aspects of BirdLife's work in the region.
Content continues after advertisements