Isle of Wight eagles go on tour
635e8467-561a-4d97-a589-09cb9e38573d
The reintroduced White-tailed Eagles on the Isle of Wight have been tracked covering huge distances across England in recent days and weeks, with the journeys revealed via their satellite data as released by managers of the project, the Roy Dennis Foundation. This flurry of movement has coincided with a small influx of wild eagles from the continent, too.
Having spent the winter barely moving from their respective territories on the island (three birds) and Oxfordshire/Buckinghamshire (one), the warm spring days during the last couple of weeks have seen them all begin to roam around.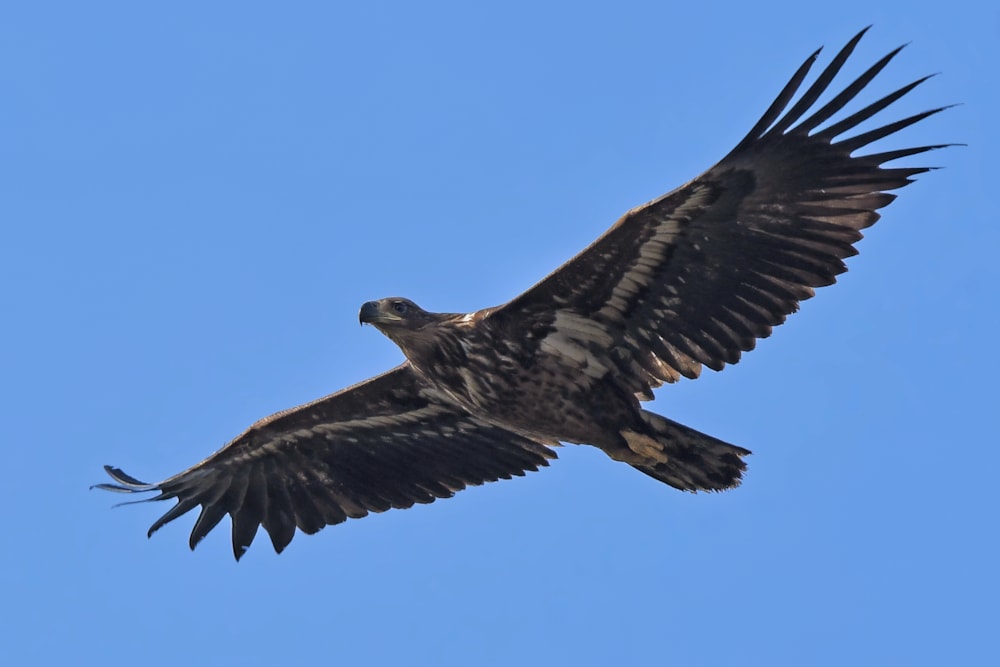 This White-tailed Eagle was photographed over Aylesbury, Buckinghamshire, on 27 March and has been confirmed as not from the Isle of Wight scheme (Dan Forder).
'G393', the eagle which had wintered in England, was the first to make a notable move on 20 March. The male flew some 70 km west to Wiltshire, before continuing the following day north-west to the Severn Estuary. It stopped briefly at Slimbridge, before heading across the estuary to the Forest of Dean, during which time birders connected – including one lucky individual who saw it from their garden. It roosted in Herefordshire that evening, some 80 km to the north.
On 23rd, the eagle bowled 97 km north-east to Staffordshire where it settled until 2 April. It then flew east, through Derbyshire, Nottinghamshire and Leicestershire, before arriving at Rutland Water. G393 spent all day there on 3 April, and was even seen terrorising the local Egyptian Geese.
After a day at Rutland Water, a stiff southerly wind encouraged G393 to head north again, through south Lincolnshire. It then followed the coast north and eventually stopped 10 km south of Grimsby in an area of scattered trees and woods, having flown 80 km since leaving Rutland Water.
Following some short local movements, G393 resumed his flight north on 4th, crossing the Humber. An hour later he was perched in a wood north of Beverley. From here it seems certain that it caught sight of another of the Isle of Wight birds, G318, who was passing to the west – because the two birds then flew north together for at least the next 17 km. While G318 paused in an area of woodland, G393 continued north into the North Yorkshire Moors and eventually settled to roost in an area of woodland in the east of the National Park having flown 123 km.
G393's wanderings continued on 12 April, when it made a 170-km flight south-west from North Yorkshire to the Peak District NP, where it roosted overnight. It was observed early the next morning south-east of Macclesfield, then south over Stafford, before reappearing over a couple of sites in Northamptonshire's Nene Valley on 14th. By that evening it was in west Norfolk.

A map, published 6 April, showing G318 and G393's movements and meeting in East Yorkshire (Roy Dennis Foundation).
Content continues after advertisements
The aforementioned G318 had wintered on the Isle of Wight, flying to the New Forest and then north-east Dorset on 16 March. The bird, a female, spent all of the next day in a wooded area near Sixpenny Hendley, Dorset, and then made its way slowly north into Wiltshire on 18th. After two days in an arable area west of Salisbury, G318 flew to the Wiltshire-Somerset border near Longleat on 21 March and next day she completed an amazing 101-km circuit of Somerset.
G318 then headed north-east on 1 April until reaching Rutland Water. It didn't stop long, soon heading north through Lincolnshire before roosting near Grimsby, having flown a remarkable 263 km during the course of the day. The following day, G318 went further still, finally reaching the North Yorkshire Moors.
G274 also wintered on the Isle of Wight, save an early-February jaunt to the New Forest and South Downs. However, on 27 March the male got restless and undertook a 125-km circuit of Hampshire before returning to the island. On 1 April, it crossed the Solent and flew east along Hampshire and West Sussex, passing Bognor Regis, Worthing and Hayling Island.
Once east of Brighton G274 cut inland, north-east, crossing into Kent and roosting near Stelling Minnis after a day's flight of 225 km. The next morning, G274 flew south-east to the coast at Dover and then followed the Kent coast north, occasionally stopping, before roosting near Faversham.
On 3 April G274 reached a maximum altitude of 100 metres as it continued west, passing north of Sevenoaks and then entering Surrey at Reigate. It carried on, across the woodlands of the North Downs in Surrey where it roosted. The following day, G274 passed Leith Hill before exiting Surrey near Alfold. The next morning, the bird powered south back to the Isle of Wight, crossing the Solent at Hayling Island.
Finally, G324's movements have been confirmed, with the bird making a brief excursion to Sussex and Surrey on 25 March, before returning to the island. However, on the morning of 4 April G324 crossed the Solent and flew into Hampshire, passing Winchester at 1 pm. Two hours later it was flying north-east through Cambridgeshire and that night roosted in arable farmland just north of Lakenheath Fen in south-west Norfolk, after a flight of 245 km. G324 then visited a site in north Norfolk, before making taking a more easterly route back to the Isle of Wight via Suffolk, Essex and Kent, resulting in a six-day. 650-km excursion.
This first run of roaming birds from the Isle of Wight has coincided with a notable influx of wild White-tailed Eagles from the Continent, perhaps involving three individuals, the most recent of which involved an immature photographed over Worcester Park, Surrey, on 13 April. It seems likely that flyover White-tailed Eagles will continue as a theme of lockdown birding, with plenty of observers looking upwards during the fine spring weather.