Investigation launched as auk crisis worsens
b5d13e5b-17c5-4d71-a015-ac23cbcc6dab
Investigations are underway as hundreds of seabirds – mainly Guillemots and Razorbills – have been found dead along the coasts of England and Scotland, while many more have been discovered emaciated or behaving unusually, with some even reported well inland.
The UK Centre for Ecology and Hydrology (CEH), which is examining the cause of the deaths, said the majority of the birds were Guillemots. Bird carcasses have been found along the Scottish coastline and near shores in Northumberland and North Yorkshire. Puffins and Kittiwakes have also been affected.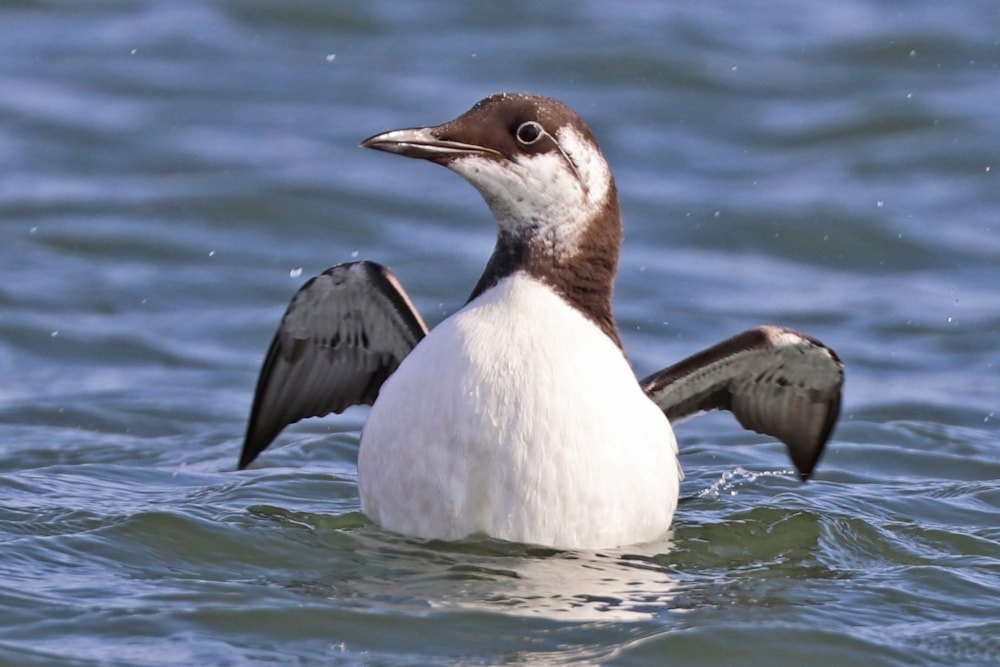 The majority of birds involved in the wreck have been Guillemots (above) and Razorbills (Jeff Stockdale).
The exact cause for the apparent mass starvation remains unclear. Dr Francis Daunt, an ecologist at CEH, has commented that nine Guillemots and one Razorbill have been tested for Bird Flu by Scottish Rural college and the return results have proven negative. He told the BBC: "The birds are emaciated – they are little more than skin and bone, with many half their usual weight, which is catastrophically low."
He explained that there had been "signs that the birds are getting desperate in their search for food", pointing to sightings of them "feeding very close to beaches in among swimmers" despite usually avoiding people. The numbers of birds involved, he said, were "unprecedented". Such behaviour, with birds feeding in shallow water close to shore, has been observed right along the British east coast.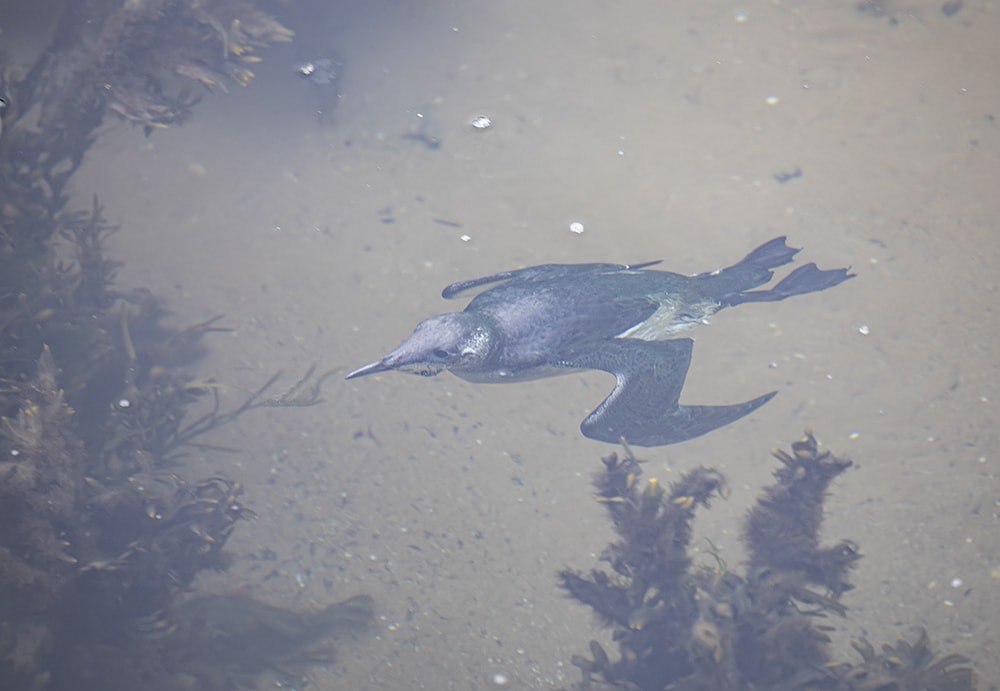 Guillemots have been observed feeding in shallow water close to shore, having presumably been driven to such measures through starvation (Harry Bell).
One theory, posed by satellite oceanographer Peter Miller, is that the struggling seabirds are linked to a dense algae bloom off north-east Scotland that may contain harmful or toxic species, some of which are known to have negative impacts on seabirds and fish species.
The RSPB has said that while the exact cause remained unknown, the climate crisis was exacerbating the factors that lead to falls in seabird populations.
Social media has been awash with photos and video of wrecked birds, including groups numbering tens of birds. Some individuals have even been found well inland, including an extraordinary record of two Razorbills along the River Bure near Horning, Norfolk, on 19th.
Totally surreal encounter with 18 guillemots on this short section of the R. Teith - calling, standing around on the banks, and sometimes flying. Local dippers confused. Also 1 osprey & 1 red kite @UpperForthBirds @UKCEHseabirds pic.twitter.com/VnHsYNExls

— Tom Finch (@tomfinch89) September 11, 2021
@Alexander_Lees 250+ Razorbills and 160 Guillemot in single 1km stretch plus 350 mixed gulls feeding like crazy on sandeels at Arbroath this morning. All in the shallows with many others further out. pic.twitter.com/TKwzZASj95

— Martin S Scott (@scillybirder) September 12, 2021
Some of the 650 Razorbill and 40 Guillemot feeding in the Eden Estuary at Guardbridge today, alongside 260 Sandwich Tern, hundreds of gulls and a few Goosander. pic.twitter.com/aJqrwx94qp

— Jared Wilson (@wilsonjaredm) September 14, 2021
Further wrecking of Guillemots and Razorbills today with 10s of birds on the River Blyth. These birds were dodging the fishing lines near Ridley Park.

Razorbill out numbered the Guillemot 8:1

Most birds diving frequently, some just drifting @NTBirdClub pic.twitter.com/v0nusfHAXc

— (johnmalloy) (@john_malloy) September 19, 2021