Introduced parrots protected in Texas
3ee4c4ae-9410-4d5d-afbc-449e256034c1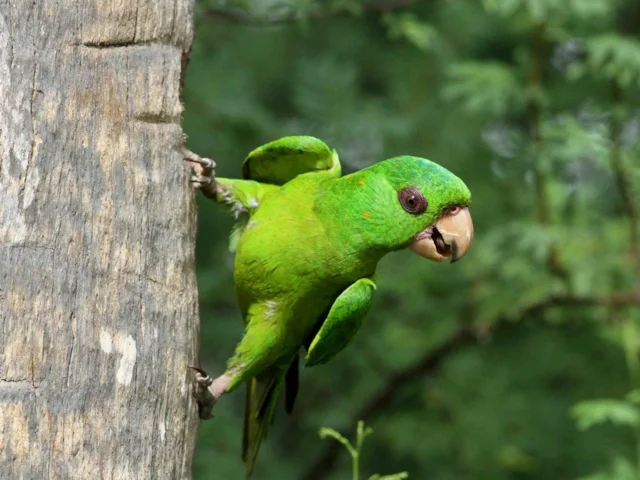 The city of McAllen, Texas, USA, has voted in a new law protecting their local population of introduced Green Parakeets, which have become an attraction for visiting birders.
On contrast to the behaviour of DEFRA towards London's tiny population of
Monk Parakeet
, The Texan town has come to view the introduced species as an economic asset. Accordingly, this week the Texas City Commission adopted an ordinance protecting the parrots that reside in McAllen, a small city just to the north of the Mexican border on the Rio Grande Valley.
At least 20 species of parrot have established feral populations in the United States, largely derived from escaped cagebirds. Green Parakeet is native to Mexico, but despite this the Texan population is known to have a captive origin – however, there is also a possibility that a few of the birds there have a wild origin due to natural vagrancy.
Resident outdoor photographer and nature enthusiast Charles Alexander contacted Commissioner John Ingram to assist in formalising his desire to see the birds protected, and Commissioner Ingram took it seriously. It is now an offence to harm the small, short-tailed Green Parakeets in McAllen.
"This is a step in the right direction for our city," said Nancy Millar, Director of the McAllen Convention and Visitors' Bureau and Chair of South Texas Nature Marketing, Inc. "It makes perfect sense. McAllen sits in the middle of the Rio Grande Valley, which is the most productive birding destination in all of North America. Our birds are very important to us. The Rio Grande Valley has recorded 536 bird species in an area only 120 miles wide and 60 miles long. It's possible to see over 100 species in a single day, and people come from as far away as Europe to bird the Valley."
Long a major destination for birders, Texas's Rio Grande Valley has grown into prominence the past two decades as cities across Texas's four southernmost counties have not only come to understand the financial benefits of attracting nature tourists, but have worked together to market the area and to create more locations for birders to see various species. Currently there are almost 100 parks, refuges and private lands accessible to birders in the region.
According to a recent survey by Texas A&M University commissioned by South Texas Nature Marketing, Inc, wildlife enthusiasts including birders contribute $463 million annually to Valley businesses and sustain over 6,600 jobs. A full one quarter of all leisure tourists to the region are here because of wildlife, and wildlife in this case overwhelmingly means birds.
"Birders may not be as visible as our Winter Texans, spring breakers or other visitors, but they're definitely here," Millar said. "They fly into our airport, sleep in our hotels, eat in our restaurants and buy merchandise in our stores. They rent cars and buy gas, and then they go home and tell their friends about the huge number of bird species they saw here, many of which can't be seen anywhere else in the country.
"Most of a birder's time when not eating or sleeping is spent in nearby out of the way places- where the birds tend to congregate. And unless they wear binoculars around their necks while dining or shopping, they look like anyone else. So it's easy to understand how they could be overlooked as making a difference to our economy.
"But they're here and in big numbers. Birds really are that big of a draw," she continued. "The US Fish & Wildlife Service recently released the newest nationwide statistics about birders, showing that 18 million people travel each year to watch birds. Add to this the large number of international birders we see, and it's easy to understand how birding makes such a financial impact for us here in South Texas."
"It's clear to see that birds mean money," Millar continued. "So it makes sense from an economic standpoint that McAllen would protect this revenue generating asset. After all, if we want the income birders bring, we have to have the birds."
Content continues after advertisements