Indonesia to launch 10-year plan to save Helmeted Hornbill
1d8d8577-01f6-4cab-a78b-cfeb65540e3e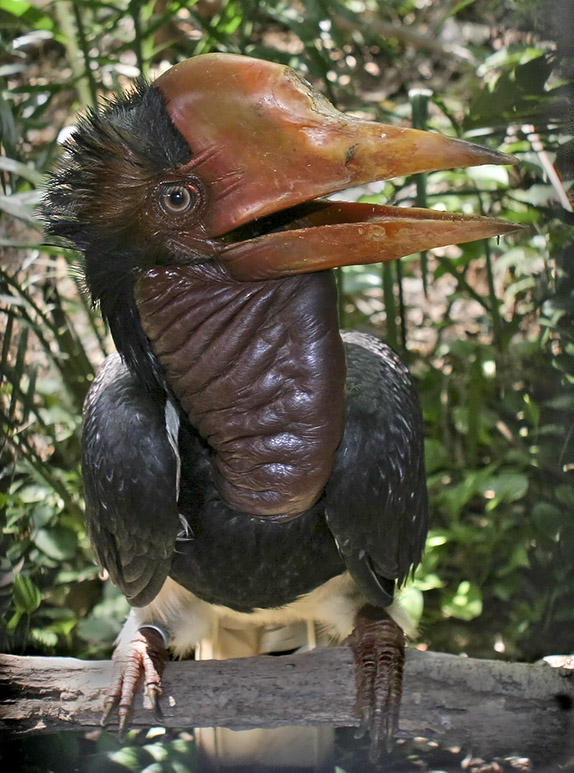 The Indonesian government will begin a 10-year programme to save the Critically Endangered Helmeted Hornbill next year.
The project will consist of five co-ordinated action plans to run from 2018 to 2028: research and monitoring; policies and law enforcement; partnerships; raising public awareness; and funding. Full details are currently being drafted.
Bambang Dahono Adji, Director for Biodiversity Conservation at the Indonesian Ministry of Environment and Forestry, said: "If we have a clear action plan, hopefully our next generation will not suffer the loss of the Helmeted Hornbill, like the Javan Tiger and Bali Tiger in the past."
Helmeted Hornbill is confined to pockets of forest in Sumatra, Borneo and the Malay Peninsula, and – uniquely among hornbills – has an almost solid casque, which weighs about 11 per cent of its total body weight of 3 kg. Its casques are illegally sold for up to $4,000 per kg (three times as much as elephant ivory) in China, and the species has been hunted close to extinction because of this.
Also adversely affecting its numbers are forest degradation, low breeding success and, until now, an absence of a conservation strategy, resulting in the species being upgraded from Near Threatened to Critically Endangered in 2016.
Content continues after advertisements
Despite not much being known about the species, researchers recently discovered a healthy population in western Borneo away from its known range. Regional conservationists such as the Indonesian Hornbill Conservation Society (IHCS) are prioritising research accordingly, as conservation efforts on a species with just a partly know distribution would be unwise.
Nurul Winarni, a conservation biologist from the University of Indonesia, has been quoted as saying: "We don't know other things that could help in the conservation of the Helmeted Hornbill. We don't know their population in nature and how they use their habitats. That's what we need to know to see their chance of surviving in the wild and [resisting] pressures from wildlife trafficking."
Once the hornbill's habits and habitats are more understood, the project will try to step up monitoring of the birds and strengthen the protection of their ranges. However, monitoring the species is not easy, as it grows up to 120 cm in length and up to five people are needed to attach a tracking device on an individual bird.
Indonesian authorities seized 1,347 casques between 2011-2017 in a crack down on the illegal trade, but the IHCS has estimated that a minimum of 6,000 Helmeted Hornbills were killed in West Kalimantan province, in Indonesian Borneo, by poachers during 2013 alone. When caught, poachers receive token sentences of no more than a year and fines of under 100 million Indonesian rupiah ($7,400). The government is attempting to introduce heavier punishment for these criminals.
In West Kalimantan, the provincial conservation agency is building a sanctuary for the species in Sintang district, expected to open in 2018, but captive breeding efforts have fallen short due to the failure of artificial nest sites.