Hunting with glue set to continue in France
a5c5dd48-05dc-42b9-b289-54e80dd8e38e
French bird hunters won a legal victory to continue trapping wild birds with glue on Thursday [20 November] when a European magistrate found the practice acceptable on cultural grounds.
An advocate general of the European Court of Justice, Europe's highest legal body, issued a legal opinion approving French laws that permit the limited use of glue traps in southern France to catch thrushes and Blackbirds.
French hunters claim that the use of limesticks is a traditional hunting method that needs to be preserved. However, this method of hunting is widely considered both brutal and outdated, and it's banned across the European Union except in five departments of southern France.
French conservation groups and the European Commission, the EU's executive branch, have been battling to end the practice in the region, arguing that it represents a cruel tradition that traps a wide range of birds, including unintended quarry and other species which it is illegal to hunt due to their threatened status. Legal challenges in the past have failed to end the practice.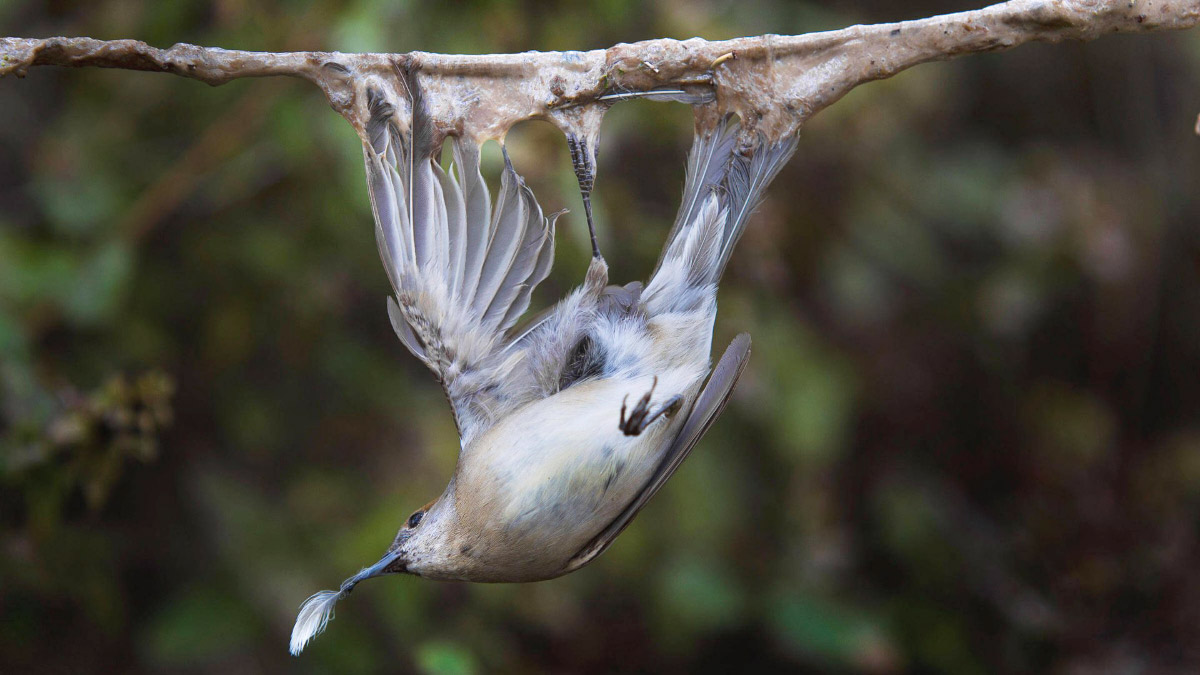 Limesticks are used to trap thrushes in France, but there is inevitably significant 'collateral damage' involving many other species of songbird (BirdLife Europe).
Advocates general to the Luxembourg-based court, Europe's highest legal body, offer legal opinions that serve as nonbinding guidance for the court's judges. Their opinions often, but not always, indicate how the court will ultimately rule.
Advocate General Juliane Kokott's finding came in a case brought by two French conservation groups, Association One Voice and the Bird Protection League, accusing hunters in southern France of abusing the use of glue traps. They took their case to France's Council of State, a high court overseeing administrative justice in France. The Council of State asked European Court of Justice to rule on whether the use of glue traps is compatible with a 2009 EU directive on bird conservation.
Kokott found that France's bird-protection laws are compatible with the EU Birds Directive because glue traps are a "regionally widespread traditional hunting method for recreational purposes" and of "significant cultural importance".
She said those were good enough reasons to allow continuation of the practice, though she said it needs to be closely monitored and controlled to make sure hunters don't endanger other species, nor trap large numbers of birds.
She noted the French law restricts the number of licences and requires hunters to only catch a small number of birds for their personal use as decoys. The French law also requires hunters not to leave the glue traps unattended and to clean off birds they aren't supposed to catch and release them, she noted.
"Permission to hunt using limes in the regions concerned is indubitably appropriate and necessary to enable that hunting method to be preserved," she wrote. "The preservation of a traditional hunting method for recreational purposes may be recognized as a judicious use of the bird species concerned."
Bird conservationists argue that any bird that gets stuck is damaged, and that hunters get away with using the traps to kill a wide range of birds they're not permitted to.
Even though the EU Birds Directive bans the use of limesticks, Kokott said the directive allows member states certain exceptions, what are known as derogations from directives.
The 2009 Bird Directive was an update to the EU's first environmental piece of legislation passed in 1979, when the EU was still in its early phases of crafting Europe-wide legislation. At the time, bird conservation was an obvious transnational concern because so many birds are migratory.
Under the 2009 directive, member states are required to protect 194 threatened species and ensure that other commonly hunted bird species are preserved through limits on catch and other measures such as seasonal restrictions. The directive also bans many types of hunting besides bird lime, including the use of snares, mirrors, poisons, nets, lights, rifles equipped with multiple rounds of ammunition and night-time sighting devices on rifles.
In August, French President Emmanuel Macron suspended the use of gluesticks to hunt birds, pending a resolution to legal challenges. While the case brought by French conservation groups has been underway, the European Commission warned this summer it was ready to sue France at the Court of Justice unless it banned the practice.
In 2019, French hunters were given a legal quota to kill about 42,000 thrushes using gluesticks. In reality, though, the number caught is thought to be much higher than this.