HS2 begins clearance work at popular nature reserve
f995367c-198f-436f-8d06-a6142629dffe
High Speed 2 Ltd (HS2) is set to begin clearance works at Calvert Jubilee nature reserve, with some 20% of the site to be destroyed in order to make room for the railway line.
On Tuesday [28 July 2020] HS2 took legal possession of a large part of the popular Buckinghamshire site and began clearance works, with the intention to destroy an area on the eastern side of the reserve to make space for the railway. The part of the reserve in question is home to the rare Black and Brown Hairstreak butterflies, as well as flower-rich grassland and important scrub habitats.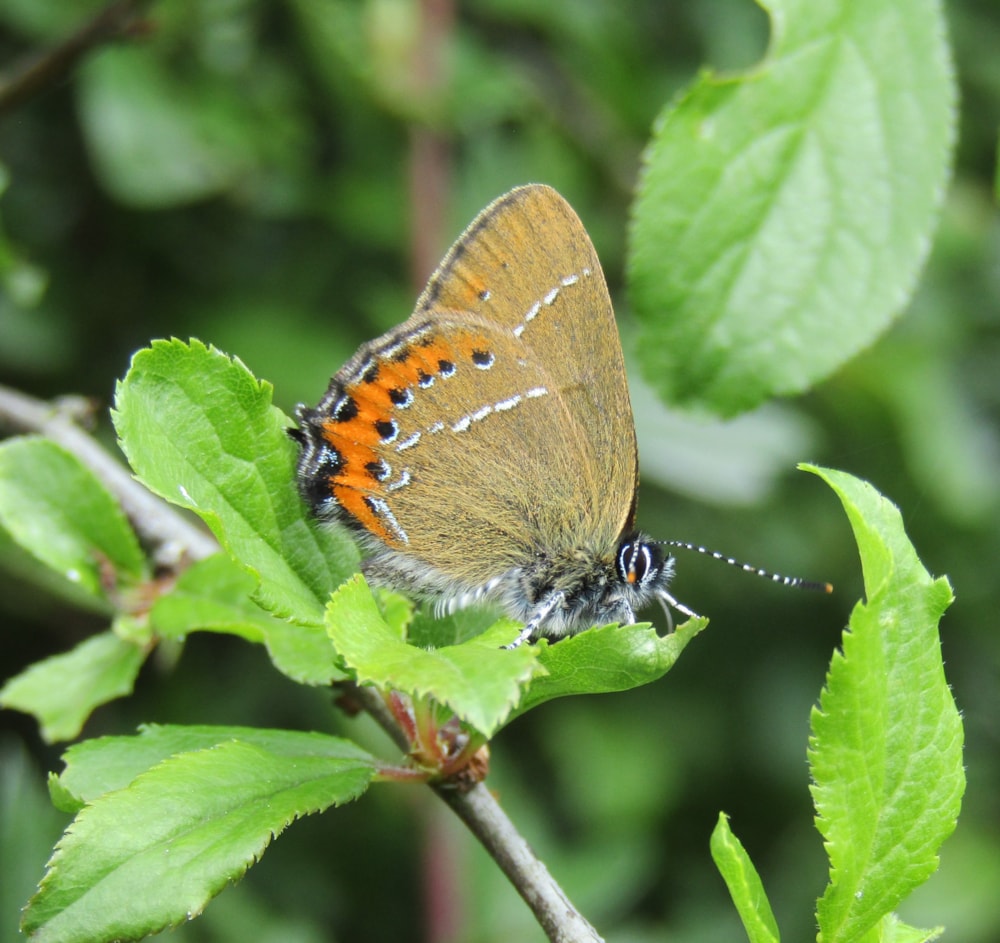 Calvert Jubillee nature reserve is home to the rare and localised Black Hairstreak (Matthew Webb).
Initially, HS2 will be clearing vegetation to erect fencing across part of the reserve. This will only be the first step towards razing part of the reserve to the ground, despite The Wildlife Trusts calling on the government to stop and rethink HS2.
BBOWT and The Wildlife Trusts have refused HS2 and its contractors access to Calvert Jubilee at every opportunity so far, and continue to oppose all clearance works, but in spite of their efforts and vigorous campaigning, an area of the nature reserve will be destroyed forever. Estelle Bailey, BBOWT's Chief Executive, said: "It is with great sadness that we have to report that HS2 will take legal possession of a large part of our Calvert Jubilee nature reserve.
"The planned clearance works will have a devastating effect on wildlife-rich habitats, including areas used by rare hairstreak butterflies. So many precious wildlife sites like Calvert will suffer along the length of the route as HS2 divides and destroys huge swathes of irreplaceable natural habitat. We are urging the Government to Stop and Rethink HS2."
Mark Vallance, Reserves Manager for Buckinghamshire, added: "I grew up a few miles from Calvert Jubilee. My visits there as a young boy set me on the path to my career today. The areas that will be destroyed by HS2 have given me some amazing wildlife experiences over the years, including the incredible sight and sound of the elusive and rare Common Nightingale.
"I am heartbroken to know that in the coming weeks and months HS2's chainsaws and diggers will finally roll onto one of our most diverse and beautiful nature reserves, destroying habitats that have been looked after by dedicated people for more than 40 years."
A spokesperson for HS2 said: "The vast majority of the Calvert Jubilee nature reserve will be unaffected by our work and we have been working closely with the local Wildlife Trust to ensure that visitors will still be able to access the site. HS2 takes the environmental impact of construction very seriously, and we are delivering a 'green corridor' alongside the line made up of new woodland, wetland and other wildlife habitats, with 70,000 new trees planted across Buckinghamshire already this year.
"All leading environment organisations agree that climate change is the biggest threat facing wildlife and habitats in the UK. HS2 will get people out of their cars, off domestic flights and take lorries off our congested roads, reducing transport carbon emissions and improving air quality."