Hen Harriers win Lottery
479beda7-130a-4cc4-9072-a34c05836005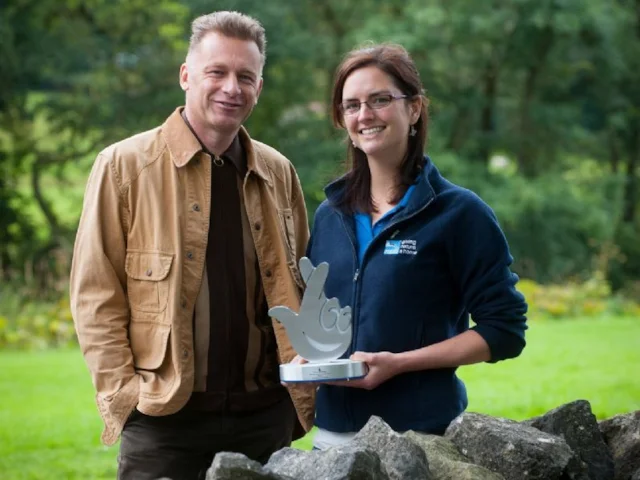 A project to protect Hen Harriers in Northumberland has won a National Lottery Award and grant to help it continue.
The four-year
Skydancer
project works with schools, communities and the shooting industry to raise awareness and promote the conservation of England's most threatened bird of prey, Hen Harrier. The project is funded by the Heritage Lottery Fund (with a grant of £317,700) and United Utilities, with additional support from the Forestry Commission.
Selected as one of seven finalists from hundreds of entries, Skydancer emerged the winner after amassing more than 7,500 public votes. The project takes its name from the male Hen Harrier's aerobatic spring courtship display, which involves soaring and somersaulting high above its moorland home in the hope of attracting a mate.
The Skydancer team found out it has won the award when wildlife presenter Chris Packham surprised them with the news while he was making a film in Bowland, Lancashire, about the project.
The award will be officially presented at a star-studded award ceremony, which will be broadcast on BBC1 on Friday 19 September at 10.35 pm. The RSPB will also receive an additional £2,000 cash prize to spend on the project.
Blánaid Denman, who has run Skydancer since it began in 2011, said: "I'm absolutely delighted that we've won this award. It's a fantastic opportunity to highlight the plight of this amazing bird to an audience of millions on primetime TV – not to mention the perfect excuse to buy a new dress. The more people we can inspire about Hen Harriers the best chance we have of rescuing the species from the brink of extinction as a breeding bird in England."
Skydancer has been very active in Northumberland, with Blánaid and her team delivering Hen Harrier-themed school assemblies, workshops and field trips, as well as community talks to groups ranging from the Women's Institute to local bird clubs.For more information about Skydancer, visit
www.rspb.org.uk/skydancer
.