Hen Harrier hotline re-opens
0aab7039-ab8e-478a-b47d-6048323930a2
The RSPB has relaunched its Hen Harrier Hotline in the hope of finding out where the severely threatened bird of prey might be breeding this year.
Just three pairs of Hen Harriers successfully bred in England in 2016, despite there being enough suitable habitat to support over 300 pairs. Illegal persecution is widely acknowledged to be a significant factor in this number being so low, and it is therefore crucial to report any potential breeding behaviour from Hen Harriers this spring, in order for them to be afforded the fullest possible protection.
The Harrier Hotline number is 0845 4600121 (calls charged at local rate). Alternatively, reports can also be e-mailed to henharriers@rspb.org.uk. Reports of sightings should include the date and location of sighting, with a six-figure grid reference where possible. A description of the bird's behaviour would also be useful.
Male Hen Harriers are an ash-grey colour with black wing tips and a wingspan of just less than a metre. They are sometimes known as 'ghostbirds' because of the pale colour of their plumage. Females are slightly larger, owl-like in appearance with a mottled brown plumage, which camouflages them when they nest on the ground. They have horizontal stripes on their tails, giving them the nickname 'ringtail', and a contrasting white rump.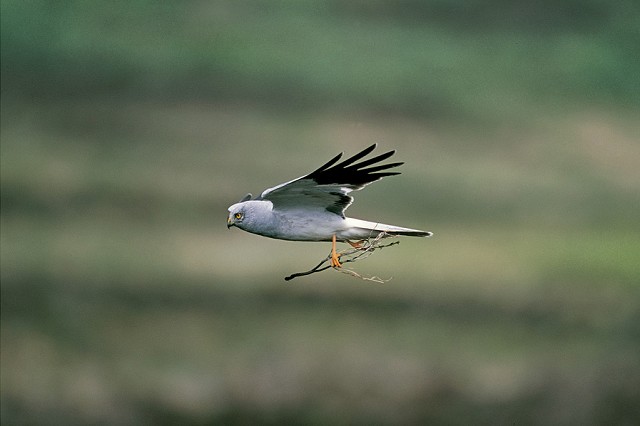 Male Hen Harrier carrying nesting material (Photo: RSPB Images)