Hen Harrier Day success
80104d5d-8a7e-4553-a3f9-60746ad11273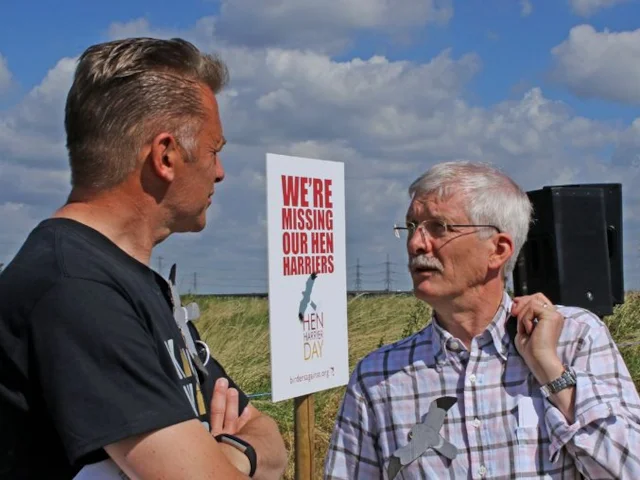 The annual nationwide event to promote the protection of Hen Harriers and draw attention to the raptor's decline and persecution attracted a record 2,000 participants or more this year.
Hen Harrier Day – which more literally takes place over the first weekend of August, just prior to the beginning of the grouse hunting season on 12th – drew in more people than ever this year, with events taking place over the length and breadth of the United Kingdom.
Just part of the enthused and enthusiastic crowd at Rainham that turned out to express their anger at the persecution of Hen Harriers. Photo: Dominic Mitchell (www.birdingetc.com).
There were 12 official gatherings, from the Isles of Mull and Eigg and Loch Leven RSPB to Arne RSPB, Dorset, and from Counties Antrim and Fermanagh to Rainham Marshes RSPB, Gtr London/Essex, though one in the Cairngorms had to be cancelled at short notice due to inclement weather.
The Rainham event was particularly well attended, with estimates of numbers ranging into the high hundreds.
Birdwatch
columnist Mark Avery was a main speaker there, and reported on what was by all accounts a successful Saturday.
Birdwatch columnist and anti-driven grouse shooting campaigner Mark Avery makes a well-received speech at Rainham Marshes RSPB. Photo: Dominic Mitchell (www.birdingetc.com).
"Last weekend I attended two of the 11 Hen Harrier Day rallies, at Rainham Marshes and in the Peak District. Both were great, and reports from Northern Ireland, Scotland and elsewhere in England suggest that about 2,000 people attended these rallies – a record number.
"Rainham on Saturday had the most people (more than 550), the most birds (an escaped [as yet unidentified, though photographed] sunbird species), Glossy Ibis, a smattering of passage waders and a couple of circling Marsh Harriers), the highest temperatures (in the high 20s centigrade) and the incomparable Chris Packham, who takes a lot of flak from shooters but wows a crowd of conservationists.
"Chris has taken to carrying a placard with the number of signatures on our e-petition with him. When he set off for Rainham it was in the low 73,000s but at the end of Sunday it had reached the high 76,000s.
Please sign here
to help it reach 100,000 signatures and spark an obligatory debate on the issue in Parliament.
"The next day in Edale, we were surrounded by Hen Harrier habitat, but there were no Hen Harriers for miles. The speakers this day included young Findlay Wilde, the Police and Crime Commissioner for Derbyshire, the local National Trust manager, Tim Birch from the Derbyshire Wildlife Trust and the leader of the Green Party Natalie Bennett. Natalie was passionate about Hen Harriers (in favour!), driven grouse shooting (against!) and saving the planet generally (in favour!). See her speak at Birdfair on the Friday afternoon – you'll be in for a treat.
"There is undoubted momentum behind this campaign to save the Hen Harrier and to remove the ills of driven grouse shooting. Each year there are more people, there is more media coverage, there are more signatures and more support for change. One day soon, there will be more Hen Harriers too."
Content continues after advertisements