Government enquiry announced after one third of tagged Scottish Golden Eagles illegally killed
b24a9ac6-601f-4fd5-adb3-6e506d0e11a7
RSPB Scotland has welcomed the announcement of an independent enquiry into gamebird shoot licensing, after a Scottish Government review showed that one-third of Scottish satellite-tagged Golden Eagles were poisoned or shot.
The new enquiry was announced today by the Cabinet Secretary for the Environment, Climate Change and Land Reform, Roseanna Cunningham MSP. The review on which it is based was commissioned after the suspicious disappearance of eight eagles in the Monadhliath mountains south-east of Inverness between 2011 and 2016. The report on these, carried out by independent scientists and subsequently peer-reviewed, showed that approximately one third of tagged Golden Eagles fledging from Scottish nests are being illegally killed, with a clear link between these crimes and land intensively managed for driven grouse shooting, particularly in four areas of the eastern and central Highlands.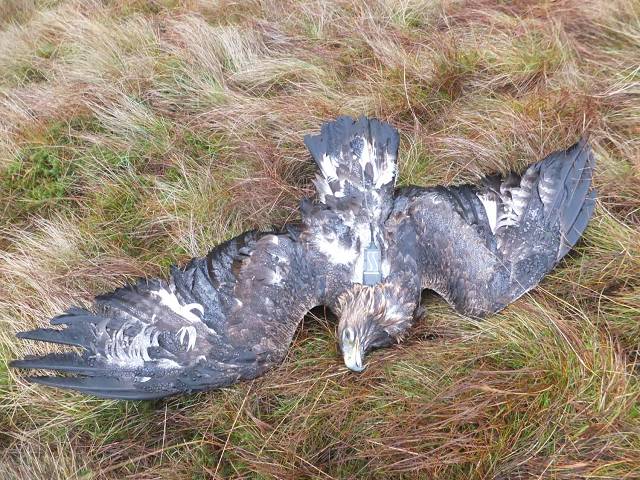 This satellite-tagged Golden Eagle was found poisoned on an Angus grouse moor in November 2013 (RSPB Scotland).
The director of RSPB Scotland, Anne McCall, said: "We commend the authors of this report for producing a comprehensive, robust and forensic examination of the issues regarding the disappearance of satellite-tagged Golden Eagles in Scotland. By commissioning such a review the Cabinet Secretary and the Scottish Government have shown decisive leadership and provided a clear, factual — if very worrying — picture, of the scale of illegal persecution in Scotland.
"The conclusions reached by the review support the concerns that RSPB Scotland has been expressing for decades: that Scotland's protected birds of prey continue to be illegally and systematically killed in significant numbers and primarily in areas where intensive grouse moor management dominates the landscape.
"We welcome the Cabinet Secretary's announcement that immediate measures will be looked into, to bear down on areas with a long and proven history of the criminal targeting of protected birds of prey ... and look forward to hearing more detail on what is proposed.
"We repeat our call for a progressive partnership with the shooting community to develop a robust licensing scheme for gamebird hunting in Scotland, with a regulatory system introduced that helps tackle wildlife crime while delivering a range of public benefits.
"These announcements are a clear notice of intent from the Scottish Government that it is prepared to take significant steps to target those areas that are destroying our natural heritage and are a stain on our country's reputation."
The review also found that none of the missing eagles had fallen victim to a wind turbine strike, and that being fitted with a transmitter had not caused the birds any long term physical effects.
RSPB Scotland's Head of Investigations, Ian Thomson, said: "This report is a damning indictment of Scotland's driven grouse shooting industry and can be added to a considerable volume of peer-reviewed scientific evidence that demonstrates very clearly the significant impact that crimes associated with intensive moorland management are having on one of Scotland's most iconic birds.
"The irrefutable evidence in this report, demonstrating the scale of systematic, organised criminality, is shocking, and yet it is likely that none of this would have come to light had these birds not been fitted with satellite tags. When you add to this the disappearances of satellite-tagged White-tailed Eagles, Red Kites, Goshawks, Peregrine Falcons and Hen Harriers not included this review, and consider that satellite-tagged birds form a very small proportion of the populations of these species, the overall numbers of eagles and other protected raptors that are actually being killed must be staggering.
"It is long overdue that representatives of the shooting industry stood up and publicly acknowledged the level of crime that is taking place. This report completely bankrupts the myth that raptor persecution is in long term decline and we hope that its publication and today's announcements represents a watershed moment for the future conservation of our birds of prey."