Golden garden visitor
73bdd1e3-8971-4602-8eac-6d4cde366716
A stranded European Golden Plover has been rescued from a garden in Porthcawl, Glamorgan, by the RSPCA.
The harsh conditions brought in by the 'Beast for the East' saw some large bird movements as winter visitors attempted to avoid the snow and ice, as well as gardens hosting some less expected visitors. Among the numbers of Eurasian Woodcock and Common Snipe marooned in unusually domestic circumstances, was also a European Golden Plover in a garden in the Porthcawl area of south Wales.
The bird was found unable to fly away in a back garden and was rescued by the animal welfare charity RSPCA for rehabilitation. Residents spotted the bird, which was walking around a garden for approximately four days; it had made no attempt to fly away or even lift its wings. The RSPCA was alerted to the bird's situation and collected it, finding it to be severely underweight and only able to run and fly a very short distance. However, officers noticed the bird had a dirty beak, indicating that attempts had been made by it to forage.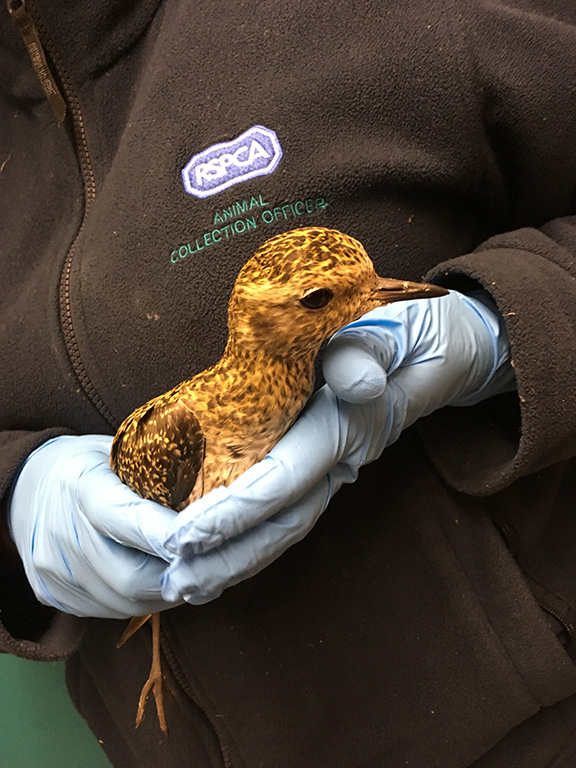 The bird was kept locally in the care of the charity, where it gained weight on a diet of earthworms and mealworms before being transferred to specialist wildlife facilities, where rehabilitation is ongoing.
The RSPB estimates that about 49,000 pairs of European Golden Plover breed in the UK annually, though these numbers are bolstered by the 400,000 which spend the winter in Britain, mostly arriving from northern Eurasia and Iceland in late autumn and departing again in spring.
RSPCA animal collection officer Ellie West said: "We're so pleased we were able to help this golden plover, [which] was found unable to properly fly in a Porthcawl garden. Golden plover are not that rare but the residents must have had [quite a] shock to see this beautiful creature running around their garden for some while.
"Fortunately, the golden plover responded very well to our immediate care and is now at our specialist facilities in Taunton [Somerset] for rehabilitation. We hope to be able to return this bird to the wild as soon as possible."