Global protection for migratory birds agreed by conservationists
484d8619-8975-4aeb-8292-055eaf875a1c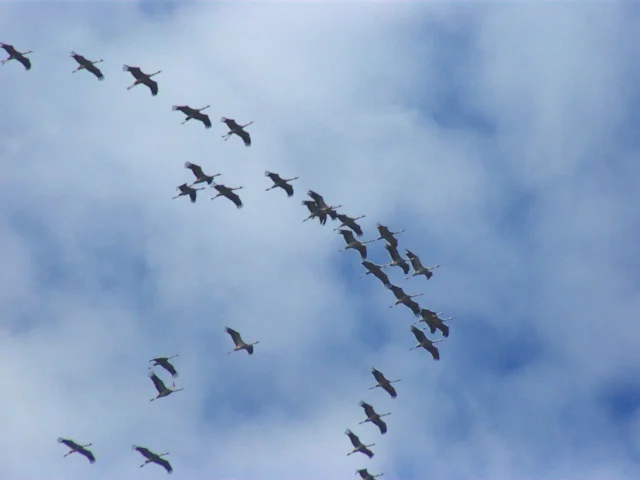 Two new international agreements have been reached by conservationists to help save migratory bird species across continents.
The Conference of the Parties of the Convention on Migratory Species (CMS) has agreed a set of guidelines to tackle some of the causes of poisoning and ratified a ground-breaking action plan to save more than 400 bird species.
In top of this, the Poisoning Resolution to reduce and minimise poisoning of migrating birds includes a ban on veterinary diclofenac, the phasing out of all lead ammunition, and action on lethal rodenticides, insecticides and poison baits. These five groups of toxic substance were identified as the most significant poisoning risks to migratory birds and the agreement marks a milestone in ending this threat.
BirdLife's Director of Science Policy and Information, Melanie Heath, said: "The CMS is to be congratulated on this hugely positive outcome. Although not legally binding, this agreement clearly signals governments' commitment to ending poisoning from lead ammunition, diclofenac and other key sources. BirdLife looks forward to working alongside governments, NGOs and others including hunters and farmers."
The poisons covered by the guidelines are collectively a huge threat to migratory birds. Diclofenac, for example,
nearly wiped out all vulture species in India
before being banned for veterinary use. Later this month, the European Medicines Agency will announce their ruling on
the recent authorisation of this same drug in the EU
.
Iván Ramírez, BirdLife's Head of Conservation for Europe and Central Asia, said: "
Lead ammunition
and veterinary diclofenac are dangerous, and pose an unnecessary threat to wildlife and people. We do have safe and cost-effective alternatives for both and we expect immediate action from the European Commission and all EU Member States."
Also ratified at the Conference of the Parties, the African-Eurasian Landbird Action Plan sets out ways to improve the conservation status of more than 400 different species of bird that use the flyway. It identifies the need for landscape-scale protection and recognises how groups working together can make a real difference. The conservation of migratory landbirds needs to be tackled on a broad front, with an influence on large scale land use decisions for the benefit of both migratory birds and local people. A particular focus will to be trying to influence land use in Africa, in collaboration with agencies promoting poverty alleviation, food and water security, anti-desertification and climate change mitigation.
"If we get this right then it's a win-win situation for birds and people," said Nicola Crockford, International Species Policy Officer at the RSPB (BirdLife in the UK). "These frameworks should also substantially assist the European Union's efforts to conserve migratory birds within its territory, and to ensure that these efforts are not undermined through damaging activities elsewhere along the flyway."
Content continues after advertisements