Glaucous Gull dies in suspicious circumstances in Co Mayo
683d7fe0-a0e2-4626-925a-e1dd4e0b3790
An adult Glaucous Gull, found freshly dead at Lough Baun, on the Co Mayo coast west of Louisburgh on 10 January, is suspected to have been shot.
The sad discovery is the latest in a line of unexplained incidents from the coastline between Roonah Quay and Cross Lough in recent years, all involving gulls.
This is the third Glaucous Gull to be found dead there in such circumstances in the last few years alone – for the discoverer of the latest bird (which was observed alive and well the previous week), it is the second adult picked up there. Furthermore, an oversummering youngster was found freshly dead at Roonah Lough on 17 September 2018, alongside at least four dead Great Black-backed Gulls. The latest bird appears to have been partially plucked by a predator, presumably a Peregrine Falcon, although this doesn't appear to have been the cause of death.
In addition, Common Gulls have been found dead, suspected shot, in the immediate area on more than one occasion.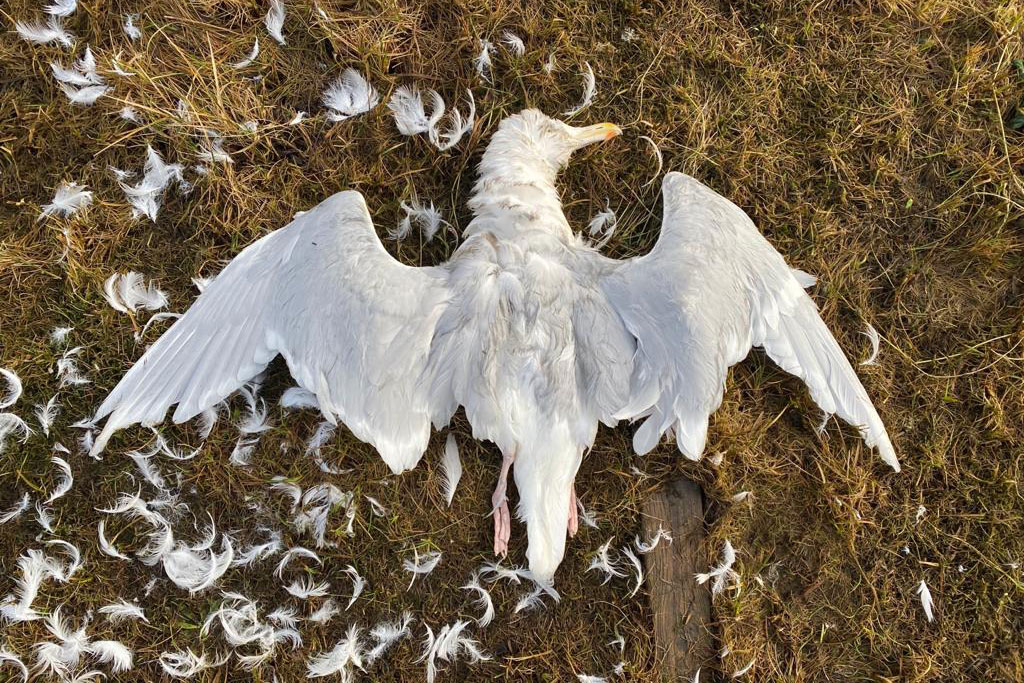 The adult Glaucous Gull found deceased at Lough Baun on 10 January – a predator had evidently partially plucked the corpse, but a suspicious hole was evident in the gull's chest (Pat Lonergan).
Several gull species are included on Ireland's list of Birds of Conservation Concern, with Great Black-backed and Common Gulls being Amber-listed and European Herring Gull (as well as Black-headed Gull) being Red-listed due to declines in their breeding populations. All gull species are protected by law under the Irish Wildlife Acts, and it is an offence to kill them, or remove their nests or eggs, without permission. With a licence, populations of European Herring and Great Black-backed Gulls can be controlled, but only via nest removal in tightly restricted circumstances.
Although significant question marks surround the cause of gull deaths in the area, anyone who may have information is encouraged to contact NPWS via email.
Avian influenza is currently posing a significant risk to both birds and humans across Ireland. If you come across a dead bird, do not be tempted to handle it. Any suspected bird flu cases, or dead wild birds, should be reported to the Irish Department of Agriculture disease hotline on 1850 200 456.