Gillnets prove fatal to seabirds
c0b7b165-69a3-42f7-b451-147beb8042e5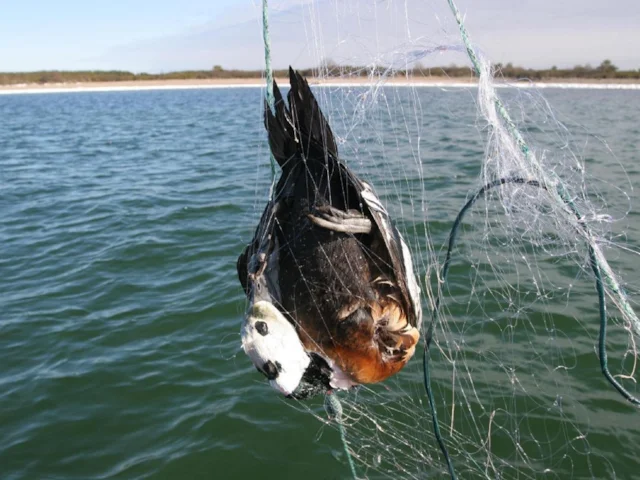 Long-line fishing has been eclipsed by a newly realised threat to seabirds from commercial fisheries – that of gillnets.
Four hundred thousand seabirds are killed each year in gillnet fisheries, more than the estimated total number of
seabird deaths by long-lines
, reveals a
study
published recently by BirdLife scientists and marine biologist Dr Ramunas Žydelis.
Gillnets are fixed equipment used across the world in coastal fisheries, and are generally made from fine nylon which makes them virtually invisible underwater. Consequently, threatened seabirds like Humboldt Penguin, Long-tailed Duck, Marbled Murrelet and
Common Guillemot
readily become entangled and drown when pursuing prey underwater.
The highest levels of seabird by-catch have been found in the Baltic, where about 76,000 birds are killed every year, as well as in Nordic regions and in the north-west Pacific Ocean. However, there are still gaps in the data, and more captures are suspected to be happening in the south Atlantic, Mediterranean and south-east Pacific, as well as in Japanese and Korean waters.
Reducing seabird by-catch is relatively easy
for long-line and trawl fisheries, but as Dr Žydelis points out, "research into similar measures for gillnets has been very limited to date and further efforts are urgently required."
Authorities are starting to take notice of this issue, and last November the EU launched a
Plan of Action
to minimise deaths in fishing gears. In addition, BirdLife is calling ministers to reach an agreement under the
Common Fisheries Policy
to implement measures for improving data collection and technical conservation, as well as to provide funding for research into best practices in order to mitigate seabird killing.
"Working closely with the fishing industry can deliver big reductions in seabird by-catch", states Rory Crawford, Senior Policy Officer at BirdLife's Global Seabird Programme. "BirdLife aims to work together with gillnet fishermen to develop workable solutions to this problem, [although it is also] imperative that the new EU Plan of Action opens up resources to find technical fixes and fill gaps in our knowledge".
Content continues after advertisements