Fourth pair of Hen Harriers breeds successfully in England
05438c8a-63d2-4e19-8578-1584a2b282f5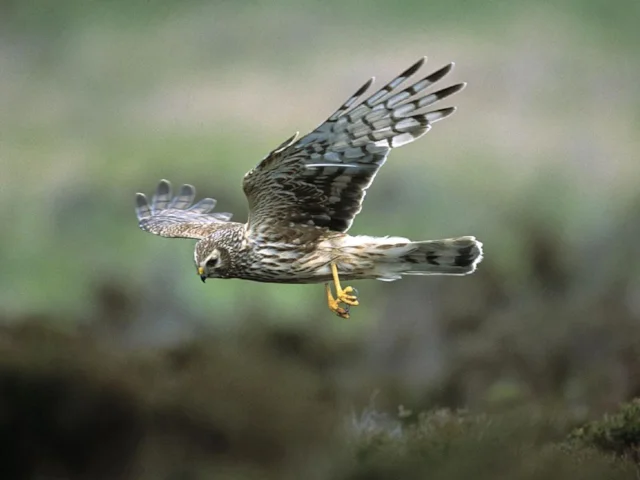 For first time in eight years, Hen Harriers have fledged successfully in the Peak District, meaning that England has now had four pairs breed this year.
It has been announced that five Hen Harrier chicks have fledged on National Trust land in the Upper Derwent Valley, Derbyshire, this summer, representing the first time the species has bred successfully in the Peak District for eight years.
Hen Harrier has been under serious threat in England for many years, with numbers plummeting nationwide to the brink of extinction within the country, primarily due to illegal persecution. The 2013 season saw just two pairs attempt to breed and, for the first time in over 50 years,
no young fledged
.
The plight of the species has recently been the subject of an extensive social media campaign which cumulated in
the first Hen Harrier Day
on 10 August, and one of the events for that date took place in Derbyshire.
The positive outcome in the county is the result of a wide partnership of people and organisations that have worked together to protect the birds and their nest as part of the National Trust's High Peak Moors Vision for the area, which aims to restore birds of prey as part of a rich and healthy ecosystem and habitat.
From late April, two males and a female were seen 'skydancing', but then appeared to leave the area. However, in early August a nest containing five healthy chicks was discovered by Geoff Eyre – a local National Trust shooting tenant – who alerted the Peak District Birds of Prey Initiative. A nest watch team providing daily monitoring was then put in place. The Initiative is a partnership set up to help secure the future of some of the area's most iconic and threatened birds.
Jon Stewart, the National Trust's General Manager for the Peak District, said: "Having Hen Harriers breed successfully here is wonderful news and would not have been possible without the hard work and commitment of all the people and organisations involved, which has been truly inspiring."
Satellite-tagging will enable the birds' progress to be tracked through the National Hen Harrier Recovery Project led by Natural England, which will help us learn more about their movements and behaviour. Sightings of the birds can also be reported via a Hen Harrier hotline (0845 4600121 – calls charged at local rate) and email address (
henharriers@rspb.org.uk
). Reports of sightings should include the date and location of the sighting, with a six-figure grid reference where possible.
Content continues after advertisements