Four BTO cuckoos now back in Britain
9153667c-60b7-4d60-ba36-25a5dc0fbb72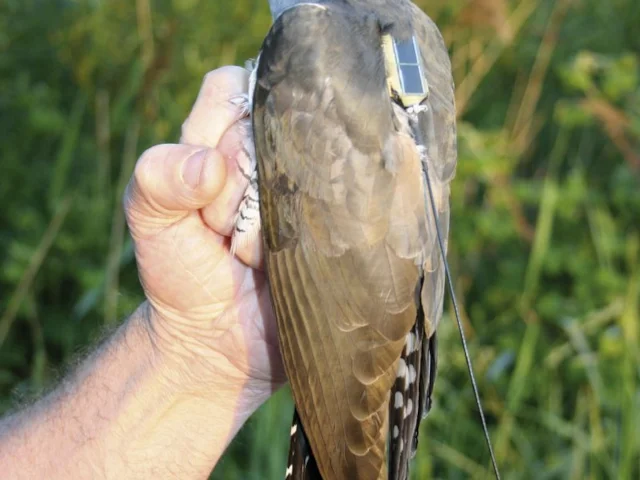 The current warm spell has now enticed four of the BTO's satellite-tagged Common Cuckoos to return home after their long migration from Africa.
Astoundingly, three of the birds have zeroed in on at their original tagging locations. The bird named Chris left the Champagne-Ardenne Region of France on the evening of 1 May, heading north-west through Picardy, and by the early hours of 4 May it was back in Britain at Lakenheath Warren LNR, Suffolk. By the following afternoon it was back at Cavenham Heath, Suffolk, the same area the bird spent six weeks in last summer.
Having spent two weeks in France, it's likely Chris may well have already had some reproductive success this year. Its stay in France did not look like a simple stop-over and we believe that Chris would have been looking for females and mating opportunities while there. It's possible either that it was 'programmed' to return to Britain around a certain date (last year it was four days earlier) and chanced its luck in France while waiting, having arrived from southern Europe earlier in April. It may also be the case that, like David, it had already returned to Britain during his tag's 'off' period around 14 April, but then quickly returned to France to wait for conditions to become more suitable.
David was in the Centre region of France on 2 May but by the evening of 6th it had covered 215 miles and was on the north coast of France, close to Cherbourg. Three hours later and it had covered around 71 miles across the English Channel and was 25 miles south of Bournemouth. Shortly after this, further transmissions indicate that David made landfall. We assume it may take a short rest here before continuing on to Wales, and it may already be there when the next transmissions are received.
Signals received late on 1 May show that BB had covered the 260 miles between its position near Nottingham and had joined Chance at Loch Katrine, Scotland, where they have both remained.
We await further information on Lloyd but it has been in northern Morocco for 10 days now. We expected it to have moved on and be making its way back to the breeding grounds as quickly as possible to secure breeding opportunities.
For more click
here
.
Content continues after advertisements