Fond farewell for popular conservationist Roy Taylor
9ee4e4b3-1fb1-47e6-9b3b-86859fec004f
In mid-November, more than 200 people gathered at Dove Stone RSPB in Saddleworth, Greater Manchester, to celebrate the life of Roy Taylor. Roy was well-known for his outstanding work throughout northern England, where he spent his entire career working for the RSPB in a variety of conservation roles. In an emotional event his life was celebrated at Dove Stone – an area he held dear – following his passing on 19 October at the age of 49, following five years of living with motor neurone disease.
Roy was influential in numerous high-profile conservation successes, including the creation of the RSPB's Old Moor nature reserve near Barnsley, South Yorkshire, and key involvement in work at Woolston Eyes nature reserve in Warrington. He was perhaps, however, most well-known for being the driving force behind the successful RSPB and United Utilities partnership at Dove Stone, which has overseen the restoration of large areas of moorland.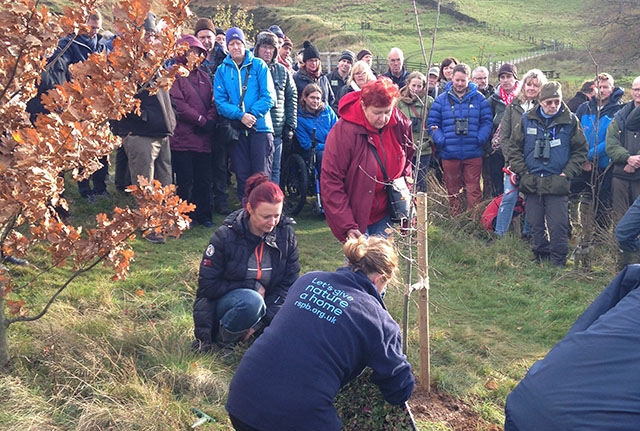 An oak was planted above Roy's ashes in Celebration Wood at Dove Stone (Robin Horner/RSPB).
David Morris, RSPB Reserves Manager in Northern England, and Roy's manager and friend said: "Roy has often been described as a 'conservation entrepreneur' – a real one-off and something that many of us aspire to be. Like many, I have had the pleasure of working with Roy over a number of years on some brilliant pieces of work, his approach always brought energy, new ideas and real delivery.
"Some of my most inspiring days at work have involved Roy and it's been an utter privilege to manage him over his final few months. Roy leaves a vast legacy behind him and I'm delighted that we have been able to mark the truly inspiring contribution he has made, by celebrating his life and career in a moving event at his beloved Dove Stone."
Following speeches and photos, memorial attendees headed to the RSPB'S Celebration Wood at Dove Stone, where a memorial oak was planted above Roy's ashes. Wildflowers were seeded next to it and the tree was placed aside another oak – planted four years ago – to celebrate the birth of his son.